This section contains bitmap scans and transcriptions of the original hand-written pages of the early minute books of the Toronto group (it had several names as time went on) from 1868-99.
The Toronto Astronomical Society formed in 1868, but after a year or so of meetings became largely inactive, so there are no minutes from 1870-89.
The club's founding members in 1868 were: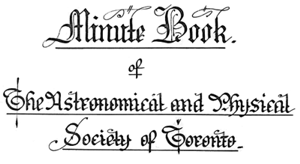 Mungo Turnbull
Daniel K. Winder
Jarvis Hughes
Samuel Clare
Robt. Ridgeway
Chas. Potter
G. Brunt
Minutes 1868-99
The APST minute book for each year from 1890-99 formed the basis for the annual Transactions volume that was subsequently published.
Post date:
Saturday, July 23, 2011 - 2:47pm
Last modified:
Tuesday, July 14, 2015 - 10:07pm