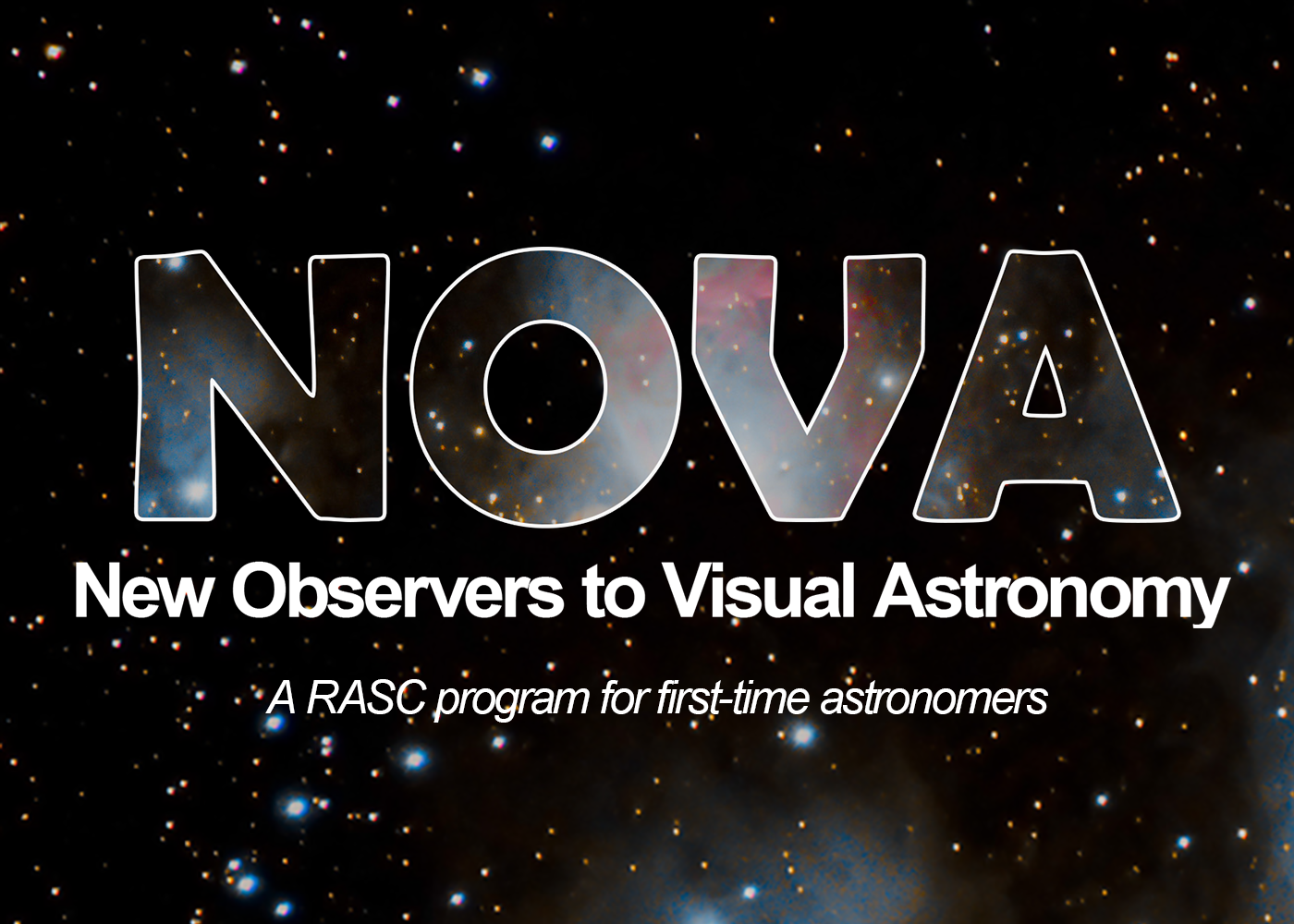 Created by RASC Members for RASC Members and anyone who wants to learn more about visual astronomy!
The NOVA program will be offered both virtually and in-person at RASC Centres across Canada. Includes 12 + modules exploring everything from navigating the night sky to astrophotography!
Look for NOVA Courses hosted by your local centre in 2023!
Each Module includes:
Student Handouts
Slideshow created and presented by knowledgeable RASC Volunteers & Staff
Interactive Demonstration or Activity
Optional Observing Session (when applicable)
A resource list you can use to learn more about each topic
and more!
Check out the full list of topics covered in the NOVA Program below!
Module Name
Description

Orienting Yourself in the Night Sky

The basics of finding your way in the night sky. Includes key sky features and how coordinate systems are translated to the sky.

Measuring the Moving Sky
An overview of how objects in the sky move through the night, month, and year. Includes how to measure distances to find objects in the sky!
Constellations & Asterisms

Discuss how the current 88 constellations came to be, the difference between asterisms and constellations, major constellations in the Nothern and Southern Hemisphere, and special types of constellations such as circumpolar and zodiacal and their relationship to the seasons.

Seasonal Observing
Asterisms, constellations, prominent telescopes, and binocular targets are visible during the current time of year. This module also discusses RASC observing programs to help you find targets to view each season.

Equipment

All the basics you need to know about telescopes and binoculars when starting to view the night sky.
Helpful Tools

Tools you can use to navigate the night sky and plan your observing sessions. This module reviews planispheres, star-hopping, using Stellarium, and more!

Sun & Moon

(2-Part Module)

How the Sun and Moon move in the night sky, features of these familiar solar system objects, eclipses, and more. Includes everything you need to know about viewing the Sun & Moon.

Solar System Structure
Types of objects in our solar system, including what bodies we can observe from Earth and what the difference is between comets and asteroids.
Solar System Observing
Features of the solar system you can see with the naked eye, binoculars, and different powered telescopes. How and when to locate the main solar system features, including rare solar system events.
Stars
The basics of stars; including the different types of stars, properties of stars, and notable stars to look for in the night sky.
Deep Sky Objects
Deep-sky objects you can see with an amateur telescope, how to observe them. Includes an activity to practice how to find deep-sky objects using star hopping.
| | |
| --- | --- |
| Module Name | Description |
| Aurora Borealis & Space Weather | What is aurora borealis and space weather, and how you might see them in your location? Also includes how to observe and photograph an aurora. |
| Radioastronomy | An introduction to radio astronomy, what we can see in radio wavelengths, Canadian contributions, and how to do radio astronomy at home. |
| Cosmology | An introduction to the field of cosmology - discusses topics such as the big bang, dark matter, dark energy, and other curious things in our universe. |
| Light Pollution Abatement | What light pollution is and why we should care. This module covers how we can reduce light pollution and what tools are available to advocate for light pollution abatement. |
| Space Exploration | A review of the history, present endeavours, and future plans of space exploration. |
| History | The history of observing from different cultural perspectives, the evolution of the telescope, how the night sky changes over time, and the history of astronomy in Canada and the RASC. |
| Astrophotography | An introduction to astrophotography, including what basic equipment you need to start and how to take your first images of the night sky. |
| Common Misconceptions in Astronomy | A jeopardy-style game based on common misconceptions in astronomy such as "every star dies and become a black hole" and "a light-year is a measurement of time". |
Post date:
Thursday, November 4, 2021 - 11:40am
Last modified:
Thursday, December 1, 2022 - 4:52pm