Explore the Universe—an introductory observing program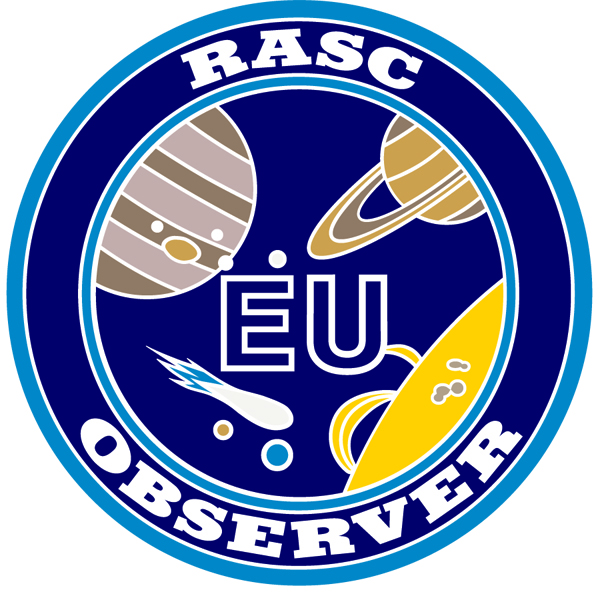 In 2020 we ran this observing program online! Visit the Explore the Universe Online page for more information and links to the recorded YouTube videos.
Explore the Universe (awarded since 2002) is aimed at the novice visual astronomer. Those who complete the program may apply for a certificate and pin—this is open to all, RASC members and non-members alike. This program will:
Stimulate an interest in observational astronomy.
Introduce good observing practices and techniques.
Provide an introduction to all aspects of visual astronomy including stars and constellations, lunar, Solar System, deep sky, double stars, and some optional activities, including variable stars.
Encourage active observing programs in RASC Centres.
One of the special features of this program is that it can be completed entirely using binoculars and the unaided eye.
If you choose to use a telescope note that automatic (GoTo) functions are not to be used.
A choice of objects is provided so that you can start the program at any time of the year and easily complete the requirements in three to six months time. Handy recording and application forms are available from a link at the bottom of this page.
Want to get started? Download the Explore the Universe program requirements and start your observing program today!
Téléchargez le programme Explorez l'Univers en français et débutez vos observations dès aujourd'hui.
If you are looking for a guide to getting started, consider purchasing the Explore the Universe Guide (3rd Edition) in the RASC store.
Here is a summary of the Explore the Universe program requirements:
| Observing Objective | Required | Available |
| --- | --- | --- |
| Constellations and Bright Stars | 12 | 24 |
| The Moon | 16 | 32 |
| Solar System | 5 | 10 |
| Deep Sky Objects | 12 | 24 |
| Double Stars | 10 | 20 |
| Total | 55 | 110 |
RASC Explore the Universe Certificate
The application form for EtU contains pages for recording the objects that you observed to qualify—be sure that this is filled before applying. You are encouraged to keep a logbook of your choosing, consider using the generic pages offered below. There is also a print-at-home EtU workbook or you can buy one pre-printed. Once you have completed your Explore the Universe observing program, you can apply for your certificate and pin either through (1) your local RASC Centre, if it is one of the Local Certification Centres or (2) the RASC Observing Committee Chair using our online contact form. Use the fillable application form below. The form has a language of choice option for the Certificate. Indicate your home affiliated RASC centre or "National" or "Unattached" if not associated with a specific centre. If you're not a RASC member, indicate "Non-member" or "Public."
Do not email large files or multiple files to the Observing Committee chair. Ask about our new Uploader Service!
This Observing Program is designed to be an INDIVIDUAL EFFORT. When you complete the program and apply for your certificate, you will have met these requirements: you located the object yourself, made your own observation at the eyepiece, kept your own log book or pre-programmed observing forms, and then applied for your certificate on your own merit. Enjoy your journey through this program!
Observing (bookmark) list files for Stellarium are available at the RASC Toronto Centre web site.
In the summer and fall of 2020, Jenna and John made a series of YouTube videos as they went through the Explore the Universe program. See the ETU online page for the links to the videos and other resource materials.
Instructional Video on How to Use the RASC Star Finder