Credit for the front cover photo was inadvertently omitted.
About the Front Cover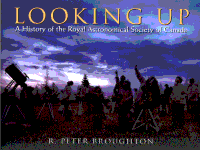 The front photograph on the jacket of Looking Up is by Alan Dyer (Calgary Centre), a renowned Canadian astrophotogapher and astronomy writer, a contributing editor of Sky & Telescope, SkyNews, a collaborator with Terence Dickinson on acclaimed projects, and winner of the RASC's Simon Newcomb Award in 2007. The image is itself part of the history of education and public outreach in Canadian astronomy. Alan writes that the photograph was "taken at one of the 1970s Starnights we held annually in Coronation Park, Edmonton, outside the old Queen Elizabeth Planetarium. The Edmonton RASC and Planetarium organized Starnights each year, carrying on a tradition begun the 1960s. The Starnights started as space exhibits at the Jubilee Auditorium, then in the 1970s when traveling NASA exhibits were no longer available, evolved into observing sessions in the Park, using portable telescopes supplied by the Planetarium and RASC members.
The current Observing Deck at the TELUS World of Science-Edmonton, now 25 years old this year (2009), is a direct result of those events, giving the city a permanent home for public telescopes, to carry on the tradition of those early Starnights. Indeed, the Celestron 14 telescope depicted at left in the cover photo is still in use at the TWS Observing Deck. Hundreds of thousands of people must have looked through it by now (it has superb optics)."
---
Other Updates
p.4 Raymond R. Thompson (1923-2015)
p.7 Malcolm M. Thomson (1908-2002)
p.32 Cyril G. Clark (1912-1996)
p.49 Isabel K. Williamson (1907-2000)
p.51 Jack L. Locke (1921-2010)
p.54 K.O. Wright (1911-2002)
p.64 Arthur E. Covington (1913-2001)
p.79 John Edward Kennedy (1916-1999)
p.96 B. Franklyn Shinn (1911-1997)
p.115 Norman Green (1913-2007)
p.132 Earl R.V. Milton (1936-1999) [JRASC obit gives 1935 as year of birth]
p.181 Miriam S. Burland (1902-97)
p.182 Frederick P. Lossing (1915-98)
p.200 John N.R. Scatliff (1914-2005)
p.213 J. Campbell Fahrner (1917-2009)
p.219 George Ball (1910-2007)
p.242 Paul Marmet (1932-2005)
p.257 Henry Lee (1920-2004)
p.295 Hugh N.A. Maclean (1915-2003)
p.263 Leo Enright (1943-2009)
p.272 Frederic L. Troyer (1912-1999)
p.272 Harlan Creighton (1946-2004)
Post date:
Sunday, August 4, 2013 - 10:23am
Last modified:
Wednesday, June 26, 2019 - 12:30pm