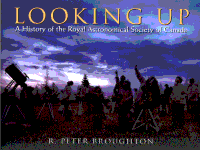 Looking Up by R. Peter Broughton (Past President, RASC) is a masterpiece of research covering the entire nationwide organization, since its founding in 1868. General readers will be surprised to find out what amateurs can learn from the sky. Leaders of volunteer organizations and educators looking for ways to promote greater appreciation of science will find many useful ideas in the book. Historians will also find interesting facts about the origins and contributions the RASC centres have made in their local communities.
"If you count yourself a Canadian astronomer, this book is part of your heritage; you will be pleased to have it on your bookshelf"
—Don Fernie, Cassiopeia, Canadian Astronomical Society
Availability: Although Looking Up is out of print, many of the Centres of the Society should have it in their libraries. Alternatively, the RASC offers it in digital format from the Looking Up page (which also has links to updates and corrigenda).
---
Table of Contents
CHAPTER
Preface and Acronyms
How I Wonder What You Are
The Society, its Name, Objectives, By-laws, Characteristics and Governance
The Centre of the Universe
The origins of the Society in Toronto, and the headquarters of the RASC
Giants and Dwarfs
Classes of membership, Women's Issues, and Professional/Amateur mix, Award winners
Bright Lights
Officers
Keeping a Balance
Income and expenditure, Grants, Funds and Donations
Of Volumes and Space
Library
The Three-Body Problem
The Journal, Observer's Handbook and Bulletin
Encounters of All Kinds
Public Lectures, Shows and displays, Star Nights, Astronomy Day, Youth Programs, Media
The Scope of Observing
Star Parties, Light Pollution, Solar System, Stars and Nebulae, Occultations and Eclipses
Clusters
Members' Meetings at Centres, the Annual Meetings and General Assemblies
Satellites and the First Steps Beyond
Early Expansion in Ontario, Ottawa, Peterborough, Hamilton and Guelph
New Frontiers
Winnipeg, Regina, Edmonton, Calgary, Saskatoon, Victoria and Vancouver
From West to East
Montreal, Quebec, Halifax and St John's
The Enterprise Returns
The Other Ontario Centres and back to Toronto
Final Thoughts, General Bibliography, Notes, Index