(1907-2000) An active member of the Montreal Centre and the driving force behind the observing programs there from the 1940s through the 1960s.
---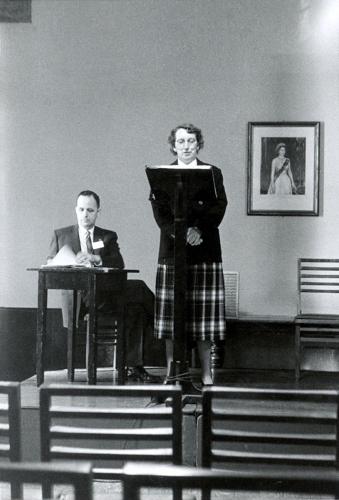 ISABEL K. WILLIAMSON (1907-2000) received the Chant Medal in 1948 and the Service Award in 1981, the only person to be doubly honoured in this way.
An RASC notice posted in the Sun Life building in Montreal, where Miss Williamson worked, originally attracted her to a series of introductory lectures in January, 1942. She immediately began to take an active part, and over the next 25 years made observations of auroras and meteors, organized others to do the same, and reported the results to appropriate scientific bodies. Miss Williamson built her own 15 cm reflector in 1947, but used the Centre's fine old refractor for lunar and planetary observation, rarely missing the weekly meetings. She participated in the AAVSO program of Nova searches from 1958 to '67 and was on their Council from '62 to '65. Dr. Gartlein of Cornell University stated that her aurora reports were unequalled by any group in a large city and Dr. Peter Millman paid tribute to the work carried out in 1946 under her direction: "I consider that the Giacobinid observations of the Montreal Centre are the outstanding example of meteor observations planned and carried out by amateurs for the purpose of producing scientific results of value."
Miss Williamson's enthusiasm led her to start a Messier Club in the '40s, the first of its kind in North America. Its purpose, to foster good observing skills through searching for, drawing or photographing all the Messier objects, lives on in the Society's Messier Certificate, awarded to members who complete the program.
From 1948 to 1971, Miss Williamson was the first Editor of the Centre's newsletter, Skyward, noted for its high quality, punctual appearance and lively style. For junior members she instituted "The Asteroid Club" which flourished from 1946-51. From 1942-50, Miss Williamson was the Centre's Recording Secretary, taking as part of her duties the publicizing and reporting of Centre activities in the newspapers, and from 1950~52 the Centre President. In recognition of her inspiring leadership, the Montreal Centre named their observatory for her in 1987. But perhaps the finest tribute that can be paid to her was written by David Levy in the dedication of his book The Joy of Gazing - "To Isabel K. Willamson, whose wisdom and teaching profoundly influenced a generation of amateur astronomers in Montreal."
—Peter Broughton (from Looking Up)
Further Reading