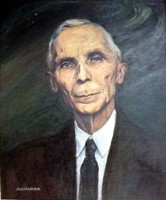 Background
The Chant Medal of the Society was established in 1940 in appreciation of the great work of the late Prof. C. A. Chant in furthering the interests of astronomy in Canada. This medal is awarded, not more than once a year, to an amateur astronomer resident in Canada on the basis of the value of the work carried out in astronomy and closely allied fields of the original investigation and specifically not for the services of the Society, worthy though these may be.
Any two Society members may submit nominations for the award. Nominations should be sent to the Awards Committee chair by December 31. Use the fillable form below.
More Information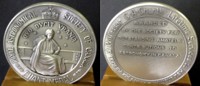 Recipients
Citations (PDF) are provided for those not published in JRASC.
2020
Michel Duval
Montréal
Citation
2018
Peter Broughton
Toronto
Citation
2008
Geoff Gaherty*
Toronto
Citation
2006
Ed Majden
Victoria
JRASC
2002
Dr. Roy Bishop
Halifax
JRASC
2001
Richard Huziak
Saskatoon
JRASC | JRASC
1998
Bertus (Bert) Rhebergen
Hamilton
JRASC
1996
Dave Lane
Halifax
JRASC
1995
Paul Boltwood*
Ottawa
JRASC
1993
Mary Lou Whitehorne
Halifax
JRASC
1989
Jack Newton
Victoria
JRASC
1988
Chris Spratt
Victoria
JRASC
1987
Damien Lemay
Québec
JRASC
1986
Warren Morrison
Kingston
JRASC
1980
David Levy
Kingston
JRASC
1979
Rolf G. Meier*
Ottawa
JRASC
1967
R.R. Thompson*
Toronto
JRASC
1959
Earl Milton*
Edmonton
1956
Maurice Drolet
Québec
JRASC
1955
Frank J. DeKinder*
Montréal
1953
Jean Naubert*
CF de Montréal
Citation
1951
DeLisle Garneau*
CF de Montreal
JRASC
1950
F. Keith Dalton*
Toronto
JRASC
1949
Frank Sisman*
Hamilton
JRASC | JRASC
1948
Isabel K. Williamson*
Montréal
JRASC
1945
Paul-H Nadeau*
Québec
1943
Cyril G. Wates*
Edmonton
JRASC | JRASC
1942
W.G. Colgrove*
London
JRASC
1941
H. Boyd Bryden*
Victoria
JRASC
1940
Bertram J. Topham*
Toronto
JRASC | JRASC
*Deceased
More on C.A. Chant