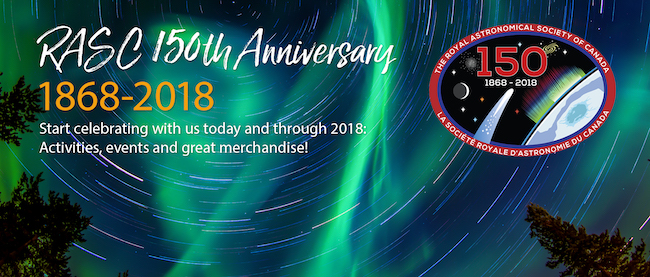 The RASC's 150th Anniversary
2018 is a banner year for the RASC—it marks the 150th year since the Society's inception. And that's reason enough for Canada's leading association of amateur and professional astronomers to celebrate the past and future course of astronomy in this country. A number of celebratory activities and events are under way, and their details can be found through the links on this page. The activities highlight active engagement in what we do now, reveal to Canadians what we aspire to do in the future, and show the roots of our astronomical advocacy and pursuits in a colourful and engaging past.
The 2018 working group is drawn from across our membership—Paul Delaney (Toronto Centre), Jim Hesser (Victoria Centre), Heather Laird (Calgary Centre), June MacDonald (NB Centre), Lauri Roche (Victoria Centre), and R.A. Rosenfeld (Unattached).
The RASC 2018 logo visually encapsulates the 150 years of our collective exploration of the universe:

A full description of the symbolism of the RASC 2018 logo can be found here.
Its elements represent the observational work, discoveries, and education and public outreach of our professional and amateur members over the century and a half since our founding. The logo features on items which will be available from the RASC store throughout the year.
A preview (in PowerPoint) of many of the RASC 2018 programs and initiatives was recently presented at the 2017 RASC General Assembly in Ottawa.
We look forward to your participation in RASC 2018 as we celebrate our history and future together!
If you have any questions, please contact : randall <dot> rosenfeld <at> utoronto.ca
RASC—Eyes on the Universe for 150 Years
Post date:
Monday, August 15, 2016 - 9:40am
Last modified:
Friday, February 5, 2021 - 9:04am