Background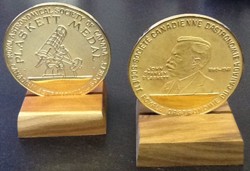 First presented in May 1988, the Plaskett Medal is awarded to the top graduate from a Canadian university who is judged to have submitted the most outstanding doctoral thesis in astronomy and astrophysics in the preceding two years. This award is jointly sponsored by the RASC and the Canadian Astronomical Society.
Named in honour of John Stanley Plaskett (1865-1941) who played a pivotal role in the establishment of astrophysical research in Canada and helped to confirm the rotation rate of the Milky Way. He was an active member of the Ottawa Centre between 1907 and 1918 and acted as an Associate Editor of the Journal for 28 years.
More Information

Recipients
Links are provided for the few citations published in JRASC.
---
| | | | |
| --- | --- | --- | --- |
| 2013 | Yasuhiro Hasegawa | McMaster University | |
| 2012 | Pier-Emmanuel Tremblay | Université de Montréal | |
| 2011 | Dr. Kaitlin Kratter | University of Toronto | JRASC 105, 51 |
| 2010 | Dr. Helen Kirk | University of Victoria | JRASC 104, 86 |
| 2009 | Dr. Catherine Lovekin | Saint Mary's University | JRASC 103, 138 |
| 2008 | Dr. Adam Muzzin | University of Toronto | |
| 2007 | Dr. Frédéric Grandmont | Université Laval | |
| 2006 | Dr. Lauren A. McArthur | University of British Columbia | |
| 2005 | Dr. Christian Marois | Université de Montréal | JRASC |
| 2004 | Dr. Jo-Anne Brown | University of Toronto | JRASC |
| 2003 | Dr. Tracey Webb | University of Toronto | JRASC |
| 2002 | Dr. Edward Thommes | Queen's University | |
| 2001 | Dr. Peter Brown | University of Western Ontario | |
| 2000 | Dr. Alexei Razoumov | University of British Columbia | |
| 1999 | Dr. Stéphane Charpinet | Université de Montréal | |
| 1998 | Dr. Dean McLaughlin | McMaster University | |
| 1997 | Dr. Alain Beauchamp | Université de Montréal | |
| 1996 | Dr. Gordon Squires | University of Toronto | |
| 1995 | Dr. Michael Richer | York University | |
| 1994 | Dr. Grant Hill | University of Western Ontario | |
| 1993 | Dr. Paul Brassard | University of Toronto | |
| 1992 | Dr. Eric Poisson | University of Alberta | |
| 1991 | Dr. Paul Charbonneau | Université de Montréal | |
| 1990 | Dr. Pierre Bergeron | Université de Montréal | |
| 1989 | Dr. Peter Leonard | University of Toronto | |
| 1988 | Dr. Richard Gray | University of Toronto | |
More on J.S. Plaskett