Speaking Topics:
The History of the Hubble Space Telescope
Arrows to the Moon: How Engineers from Avro Canada Helped Put Astronauts on the Moon
The History of Canada's Space Program
Apollo and Lunar Science
Can deliver other talks similar to the above:
Willing to consider creating a custom presentation:
Regional Availability:
Newfoundland and Labrador
Maritime Provinces
Quebec (outside Montreal)
Eastern Ontario and Montreal
Central Ontario
Far North
Southwestern Ontario
Northeastern Ontario
Northwestern Ontario
Manitoba
Saskatchewan
Northern Alberta
Southern Alberta
Northern and Central BC
Lower Mainland
Victoria and Sunshine Coast
Target Audiences:
General audiences (adults)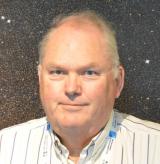 Chris Gainor is a historian of technology and writer specializing in space exploration and aeronautics. He is the author of four books on space exploration and aeronautics, and his articles have appeared in various specialty publications and Canadian newspapers. He holds a PhD in the history of technology from the University of Alberta, and has taught history at the University of Victoria and at CFB Esquimalt for the Royal Military College of Canada. He is currently writing a history of the Hubble Space Telescope for NASA. Chris is International Space Programs Editor for Quest: The History of Spaceflight Quarterly. He is First Vice President of the Royal Astronomical Society of Canada, and a Fellow of the British Interplanetary Society. He has given many talks to RASC audiences and the general public on the history of Canada's space program, the story of the CF-105 Avro Arrow, the exploration of Mars and the Moon, and the Hubble Space Telescope. He lives in Victoria, B.C.