Speaking Topics:
Small Observatories
Light Abatement
Beginning Astronomy
Can deliver other talks similar to the above:
Willing to consider creating a custom presentation:
Starting Airport:
Vancouver International Airport
Regional Availability:
Southern Alberta
Northern and Central BC
Lower Mainland
Victoria and Sunshine Coast
Target Audiences:
All ages including children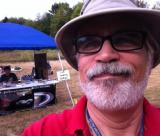 Charles got his first telescope as a child in North Vancouver, BC. This kindled a passion which has taken him forward to the present day. Charles served the Vancouver Police Department between 1977-2005. He retired from the Vancouver PD in November 2005 and became a civilian police dispatcher at ECOMM for Southwestern BC, an organization responsible for emergency communications in Southwestern British Columbia. He retired from law enforcement in 2013. Charles is an experienced public speaker and published author, with 20 books in print and three more in progress, including a Small Observatories Handbook for the RASC. Charles joined the Sunshine Coast Centre of the Royal Astronomical Society of Canada in August 2013 and quickly got involved in helping to build that centre's small observatory, which opened to the public in June 2015. Within months of joining the SCC RASC, Charles also became their Media Director. In December 2014 he became President of that Centre. He currently serves on the RASC's national Communications Committee, Publications Committee, and is the Public Speaker Program Administrator for the RASC. Charles taught part of the Beginning Astronomy Course at Elder College at Capilano University.