It is that time again - 2011 Observer's Calendars are now in stock and ready to ship! For more info and ordering info is here.
The 2011 Handbook should be shipping mid to late October, pre-orders are now accepting.
There are changes this year with HST! If you province does not have HST - then it is just the standard 5% GST on everything.
Calendars are subject to HST if your province is subject to HST. Books are only subject to GST @ 5% regardless of your home province. Shipping and Handling IS subject to HST.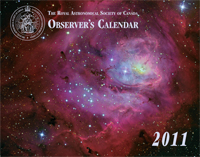 2011 Calendar
eNews date:
Monday, September 27, 2010
Post date:
Wednesday, January 18, 2012 - 9:41am