RASC London Centre held its 33rd annual banquet on Friday, May 12. About 35 members and guests enjoyed a wonderful buffet meal at Michael's Garden, part of the restaurant complex in the Great Hall at the University of Western Ontario. There was even a cake decorated with the Society's crest.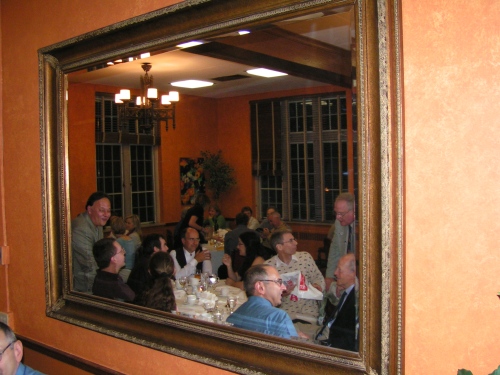 Members and guests reflect on their interest in astronomy at the RASC London Centre banquet 2006-05-12
After dinner, London Centre President Dave McCarter recognized Bob Duff as Member of the Year for his tireless organization of volunteers at the University's regular open house events and for his work as Centre Librarian.
Then everyone strolled over to the classroom in the Hume Cronyn Memorial Observatory on campus where the Guest of Honour, David H. Levy, was introduced. David is one of the best-known Society members, and he shared reminiscences and inspirational thoughts about astronomy, art and literature.
Post date:
Tuesday, January 17, 2012 - 9:28am