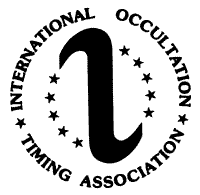 Interested in occultation astronomy? Plan now to attend the 31st Annual Meeting of the International Occultation Timing Association in Toronto from October 4-6th at the David Dunlap Observatory. Occultation enthusiasts from across North America plus remote participants from around the world will be participating in series of informative presentations, a live occultation event in Muskoka and more.
There is no admission charge for this event.
Full details are available at https://web.archive.org/web/20150328171521/http://www.asteroidoccultation.com:80/observations/NA/2013Meeting/
The event includes an expedition to observe asteroid 307 Nike from the Muskoka region in an area from Barrie, Ontario to approximately Sudbury. Any RASC members in this region are highly encouraged to participate in this event to maximize the resolution of the asteroid's shadow.
http://www.asteroidoccultation.com/2013_10/1006_307_30203.htm
For more information on occultation astronomy including a "how to do it" for beginners please visit http://www.rasc.ca/occultations.
The path for Nike is shown below. Observations are most valued between the red lines (the "one sigma" zone). This occultation opportunity is reachable for RASC members living in or able to travel to the Bruce Pennisula/Manitoulin Island, Sudbury/North Bay Muskoka or the upper Ottawa Valley.
eNews date:
Wednesday, September 11, 2013
Post date:
Wednesday, September 11, 2013 - 9:45am