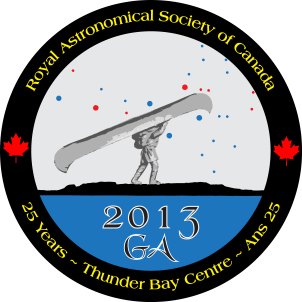 Only 81 days remain until the RASC General Assembly hits beautiful Thunder Bay, but there's still plenty of time to make sure you do the weekend right. 
If you're planning on the attending the assembly, and have taken a stellar astronomical photograph lately, consider submitting your work as part of the traditional GA photo contest. Submisisons will be accepted in four categories (Deep Sky, Solar System, DSLR Fixed Mount, and DSLR Moving Mount), and the winners will go home with the much-coveted bragging rights. For more information, visit
More of a wordsmith? Spots are also open for the roster of paper presentations to be read on Saturday, June 29th. While you have until June 1st to submit your work, it's best to claim a spot while it's still available. 
*New Roundtable Discussion*
Social Media and its Role in Astronomy Education and Public Outreach
Twitter, Facebook, Google +, YouTube - there is no doubt that many of you have heard of these websites, but do you know how they are being used with respect to astronomy education and public outreach? Can it be done better? Is it a good thing? Where is it going?  How can you use it in your EPO?  
Join social media experts Fraser Cain of Universe Today, Oana Sandu from astronomycommunication.com, Casey Dreier of the Planetary Society, and a TBA speak from SLOOH in a Google+ Hangout as they answer your questions about how to best use this exciting new technology to your advantage. 
Post date:
Monday, April 8, 2013 - 10:38am