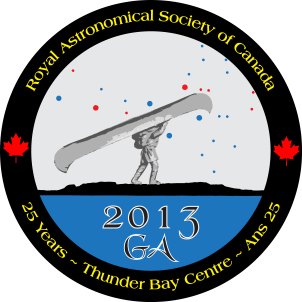 The registration and conference website is now open at /events/. The 2013 General Assembly will be held in Thunder Bay, Ontario as the Thunder Bay Centre welcomes the Society as we join them to help celebrate their 25th anniversary.
Highlights include:
Outstanding guest speakers including Dennis Mammara, Sara Seager and Raymond Calburg.
Special tours of the new David Thompson Observatory at Fort William Historical Park
A once in a lifetime opportunity to see the central uplift of a massive crater in Lake Superior
Hospitality, banquets, awards, presentations and much more!
All RASC members are encouraged to come out and check out this year's GA and plan now to join us in Thunder Bay from June 28-July 1st, 2013.
Rendezvous with the Stars!
Post date:
Monday, February 4, 2013 - 9:12am