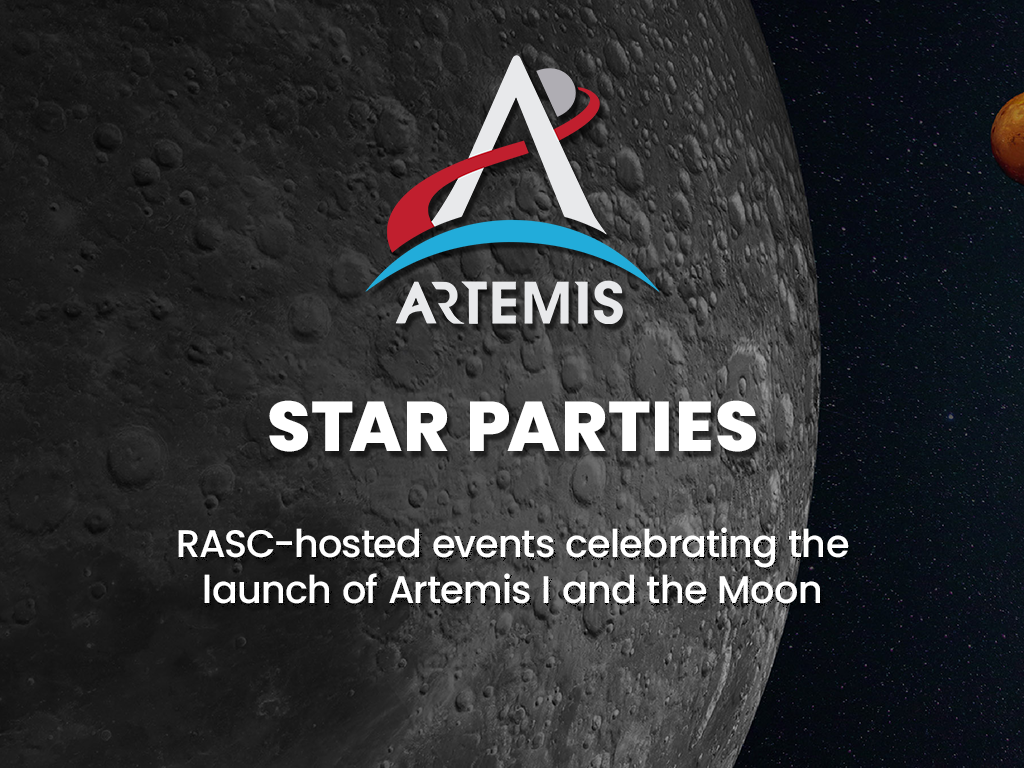 April 2022 Events
Date

Host

Format

Description

Link




Saturday, April 9th, 2022 @ 7:30 pm EDT

RASC Toronto

Virtual

Artemis - Canada is going to the Moon




Join the RASC Toronto Centre for a one-hour online event to learn more about Artemis and Canada's participation. Special guests are Dr. Bhairavi Shankar, an expert in lunar science, and Chris Vaughan (from Insider's Guide!). End the night with some live (virtual) views of the Moon!

RASC Toronto Event Listing




Monday, April 11, 2022 @ 8:30 pm EDT

Yukon Astronomical Society




(RASC Yukon)

In-Person

Moon Party




Come explore the moon with us to celebrate the upcoming Artemis 1 launch! Artemis 1 is the first step to the return of humans to the Moon, in which Canada is a partner. This event is open to the public without charge, though donations are definitely appreciated.

Yukon Astronomical Society Event Listing




Thursday. April 14th, 2022 @ 6 pm - 7 pm EDT

RASC National & RASC Montreal

Virtual

Sketching the Moon




Learn how to sketch lunar craters with special guest Bettina Forget! Follow along with hosts from RASC National and RASC Montreal as well learn how to draw craters on the Moon. 

Event Listing with Registration




Friday, April 15th, 2022 After Dusk

RASC Sudbury

In-Person

Science North Friday Night Star Parties: Artemis Night




Join RASC Sudbury and Science North for a special lunar-themed Friday night star party and to learn more about the Artemis Mission. Weather Dependent.

Science North's Friday night Star Parties




Saturday, April 16th, 2022 @ 7 pm PDT

RASC Victoria

Virtual

The Artemis Missions and Canada's future roles in Space




Hosted by RASC Victoria Centre and the Friends of the DAO




*  Send your photos of the Moon into our Tre"moon"dous Lunar Photo Give-Away Contest

Try your luck in a special Moon Quiz

 Find out how to take great photos of the Moon with your cell phone

Ask an Astronomer your questions with admitted selenophile, Randy Enkin, President, RASC Victoria Centre









May 7th International Astronomy Day Events
Host

Format & Time

Description

Link




RASC Victoria

10 am - 3 pm PDT &




7:30 pm - 11 pm PDT

International Astronomy Day Star Party




at the Royal BC Museum, virtual online, and Observatory Hill, Victoria, BC, Canada




Amazing Astronomical Activities for all ages!




Star Party in the evening at the Centre of the Universe

Learn more here!




RASC Ottawa

In - Person




TBD

Star party with Ottawa Amateur Observers Group (OAOG)




Join us as we observe the moon and other targets to celebrate Artemis I and International Astronomy Day!

 2401 City Park Dr, Gloucester, ON 




(Parking Lot of the Silver City Mall near Chapters)




RASC Montreal

In-Person 




8 pm EDT

AstroFest at the Rio Tinto Alcan Planetarium




Celebrate International Astronomy Day with AstroFest at the Rio Tinto Alcan Planetarium - space activities from 11am-11pm featuring local amateur astronomy groups and outreach educators, a french presentation and bilingual Q&A by CSA astronaut David St.Jacques and an evening Moon & Star Party. RASC Montreal Centre will host an information table with hands-on craft activities for youth and the young-at-heart, and observing setups throughout the event (weather pending).

Learn more here!




RASC National

Virtual

Shooting for the Moon Webinar




A celebration of the Moon and astronomy across Canada!

Learn more here!