(1900?–53?) An observatory owned (sequentially) by two Toronto members.
---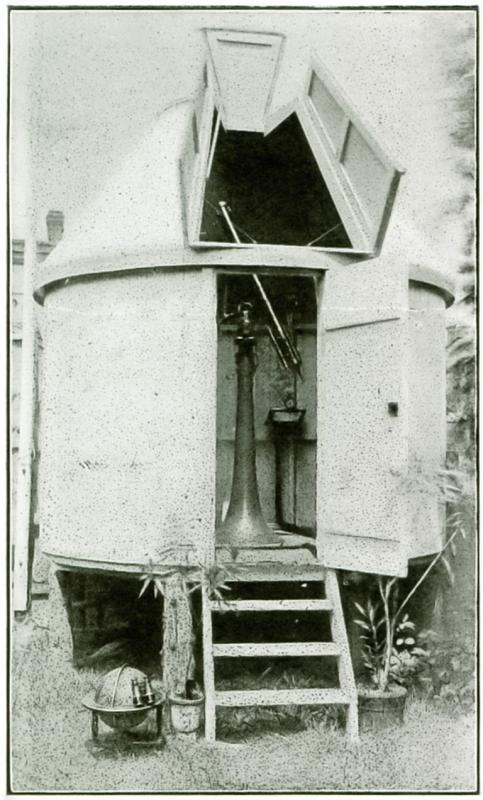 Mr. A.F. Miller's observatory in Toronto. This photo was published in the RASC Selected Papers and Proceedings, 1902-03. Information was given on pp. 59:
Mr. Miller's observatory has a revolving dome. Is equipped with a 4 inch Wray objective telescope equatorially mounted, with circles and clockwork. It is provided with spectroscopes and other accessories. The defining power is excellent. High powers can be used under favorable weather conditions.
Right: Miller Observatory, circa 1900
at 280 Carlton East
with the 4-inch Wray Refractor inside.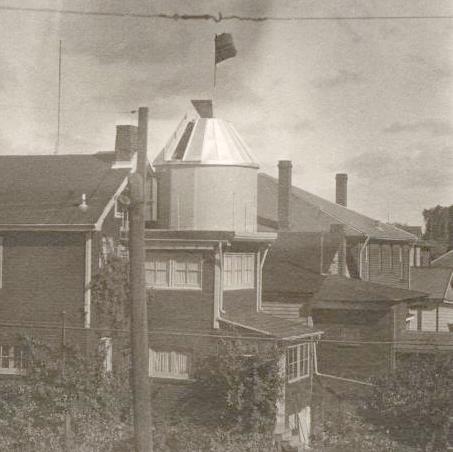 This observatory was later acquired by H.A. Waddington, who moved it from Miller's home at 280 Carlton East and mounted it on top of his house at 31 Gould Street, Toronto.
Right: Waddington Observatory, circa 1940
at 31 Gould Street
perhaps with this telescope inside.
The house and observatory exist as late as 1953, but appear to be gone by 1956.¹ —WM
Notes
1–City of Toronto aerial photos show the evolution of this site. (It is possible that consulting the original photos might provide a bit better resolution than the digitized versions.) Everything on the south side of Gould Street was torn down by 1959 as part of the expansion of the Ryerson Institute of Technology (now Ryerson University).
Description:
Observatory, Miller-Waddington