(1904-51) DAO/DDO astronomer; Toronto Star columnist; Society President (1941-42).
---
FRANK S. HOGG (1904-51), the youngest President the Society has ever had, was the only one whose wife was a President too. Frank was born in Preston, Ontario, attended schools in the area and then studied mathematics, physics and astronomy at the University of Toronto. He graduated in 1926, winning the RASC Gold Medal, and then proceeded to Harvard for his A.M. and Ph.D. degrees under Cecilia Payne's supervision. Frank Hogg was actually Harvard's first Ph.D. graduate in Astronomy. Following a year on a travelling scholarship in Europe, he returned to the States where he married Helen B. Sawyer in 1930. He was associated with Amherst Observatory for a year and then accepted an opening (left vacant as a result of R.O. Redman's departure for England) at the DAO in Victoria, BC.
Though he had been a member of the Society for some years and had contributed an important paper to the Journal on Cometary Spectra, his active involvement with the Society really began at this time. He joined the Council of Victoria Centre and served as their Second Vice-President, participated in a symposium at the Victoria Centre and spoke to Vancouver Centre.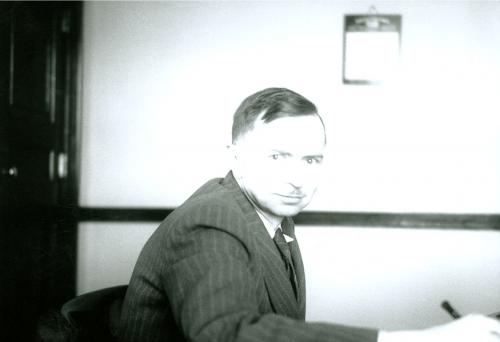 Then, in 1934, with the opening of the DDO imminent, Frank Hogg accepted a position in Toronto. Once again, he became involved in RASC work, lecturing and serving on the local Council. In the national Society he was Vice-President and President during the years 1938-42, and took on a lot of the editorial work for the Journal and Handbook. During the War, heart problems kept him from active service and so he, along with his wife Helen, Ruth Northcott and the Director, R.K. Young kept the big telescope running and carried on with their own research and teaching as well as that of Heard and Millman who had enlisted. Among these responsibilities was the weekly astronomy column in the Star which his wife eventually took over following Frank's death in 1951.
—Peter Broughton (from Looking Up)
Further Reading