(1865–1947) Society President (1908–09); 1st VP (1907); 2nd VP (1902–06); Secretary (1900–01).
---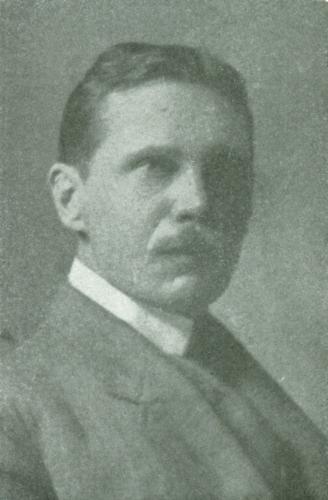 Very little is known about the Society's eighth President, W. BALFOUR MUSSON. He may have been a son of George Musson, a tea broker in Toronto since at least 1872. In any event, George Musson's address was 1 North Street, the same as W.B. Musson's when the latter name first appeared in the city directory in 1884. This address was very near Andrew Elvins', in the vicinity of what is now Bay and Grosvenor Streets, and in fact an 1873 address for George Musson was just across the street from Elvins. So it would not be hard to imagine that Elvins brought young Balfour Musson into the Society. One can trace W.B. Musson's career through the directories. He was at first a clerk with a firm of wholesale grocers, later an agent with the West Shore Railroad and the New York Central. From 1941 to '47 he was listed as a manufacturer's agent, after which his name is no longer found in the Toronto directories.
W.B. Musson was a member of the Society since at least 1892. Fifteen contributions appeared in the Publications and Journal, including three on variable stars and two on stellar classification. He successively held the offices of Librarian, Secretary, Vice-President and President during the years 1896-1909. His last known contact with the Society was in 1930 when he wrote an obituary of J.A. Paterson. His name is not in the members list for 1931.
—Peter Broughton (from Looking Up)
Further Reading
Development in the Stellar Universe, JRASC (February 1909)
Notes
Dates of birth and death were found by R.A. Rosenfeld. The documents are:
Census of Canada, 1891, District 119 Centre Toronto, Sub District 18 St. John's Ward, p. 16
"W[illia]m B[.] Musson[,] Age 26"
Toronto Daily Star Wed., April 30, 1947, p. 28, column 3
date of death given as "April 30, 1947"