The RASC Vancouver Centre is hosting a spectacular Astronomy Day event on Saturday, April 27th.
Location
Hosted at the Burnaby Campus of Simon Fraser University
Academic Quadrangle, South Concourse (see map)
Free admission (university parking fees in effect)
Afternoon Activities
From 11 am to 4 pm to include:
Vendor displays
Mobile Planetarium
Solar System/Planet displays
Solar telescope station
Apollo Mission Displays by Ted Stroman
Hands-on Physics station by Jim Bernath
Children's craft tables
Astronomy Bingo
Solar System Walk by the SFU Astronomy Club and more
Various Lectures going all afternoon – topics to include: - The Moon - Russian Space Program - Scholars of Science - How to Enjoy Astronomy in the Vancouver area - Chinese Space Program - and more
Evening Lecture – SFU – Lecture Theatre C9001,
Academic Quadrangle, South Concourse, same hallway as the afternoon activities 7 pm start - free admission (parking fees in effect)
We Are Dancing In The Stars
by John Nemy
Space and the stars around us are our home these days. Travel tonight's sky during John Nemy's inspiring presentation. Then go outside and see the same real sky overhead through telescopes. It's like a double planetarium show as we celebrate Astronomy Day! From Canadian astronaut Chris Hadfield orbiting Earth in the International Space Station to the depths of galaxy clusters that we are a part of, John's presentation puts in plain words, movies and music our cosmic connection with the universe.
John Nemy and Carol Legate are best known as public astronomers and "coexistence through planetary awareness" has been their message. Over the past 25 years they have shown the night sky to an estimated 30,000 people, from the mountain tops of Whistler, British Columbia to the wine regions of Niagara in Ontario. In 2012 they opened Island Stars a public observatory on Hornby Island, BC.
Star Party (Weather Permitting)
Followed by a Star Party at SFU 9 pm - 10:30 p.m.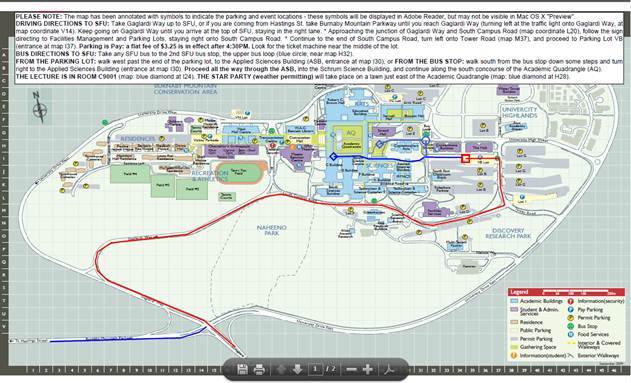 Post date:
Thursday, April 18, 2013 - 3:31pm