The Niagara Centre is hosting their annual banquet on Saturday, April 14th, 2007 from 6:00 p.m. onwards. All RASC members are encouraged to take in this exciting event that will feature Paul Delaney of the Department of Physics and Astronomy at York University.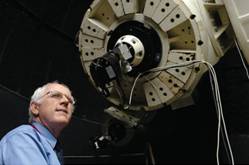 Paul Delaney
Prof. Delaney will speak on the topic of No place like home: our changing Solar System. His presentation will explore recent discoveries such as the historically wet environment of Mars to the methane lakes of Titan and highlight how the exploration of our Solar System continues at an exciting pace with new probes of discovery being launched every year.
His presentation will also focus on some of the recent science returns for our own celestial backyard and will include some commentary on the change to the planet definition that occurred in 2006.
Event Highlights
Date: Saturday, April 14th, 2007
Time: Dinner @ 6:00 p.m, Speaker @ 8:00 p.m.
Place: Delphi Hall Two, 4414 Portage Road, Niagara Falls ON.
Cost (includes dinner and presentation): $45.00 for adults, $30.00 for children under 13
For tickets and information call:
Joyce Sims - 905-262-5276
Andrew Beaton - 905-933-6555
Darlene Sloggett - 905-354-6612
Brian Pihack - 905-356-1212
For more information, please visit the Niagara Centre website at: www.rasc.ca/niagara or download the event poster.
Post date:
Saturday, January 14, 2012 - 3:06pm