Beginning 2009 Jan 9, members are invited to use the new RASC Secure Web Portal to browse and update their membership profile on-line. Visit the new portal at https://secure.rasc.ca. Using the portal members can:
Update their address, e-mail and personal information
View your current membership status and outstanding dues payable (if any)
Update your National Options
Assign a personal password and login
Here is a quick overview of the key features of the new web portal:
Initial Login
In order to access your account (provided your e-mail address is on file with the National Society) use the Reset My Password feature. This will send login information to your e-mail address. You can then login and set your personal login ID and password.
If your e-mail address is no longer correct or is not on file with the National Society, please send a message to mempub@rasc.ca with your personal information and a valid e-mail address so we can update your record.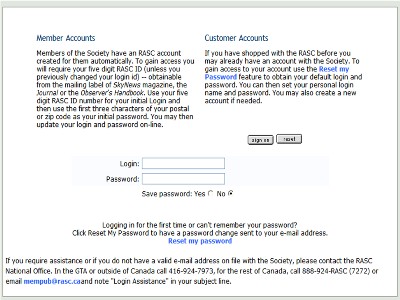 Secure Web Login Page for Members and Customers
Security Update
Once you have logged in you can update your security credentials by changing your UserID and password to suit your preferences. Simply click on "Security" and update your password and Login ID as you wish.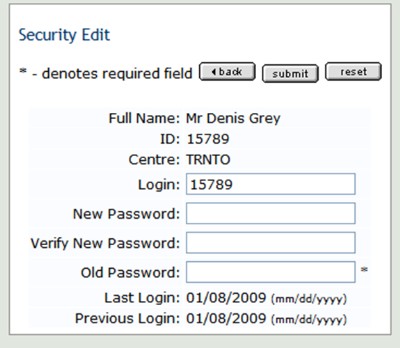 Update your login credentials on-line
Personal Information
Your Member Profile contains your mailing address, telephone numbers, e-mail address and other personal information which is used by the National Society and your Centre to deliver your membership benefits. By updating this information you can help ensure that your National publications and Centre mailings are sent to the right address every time.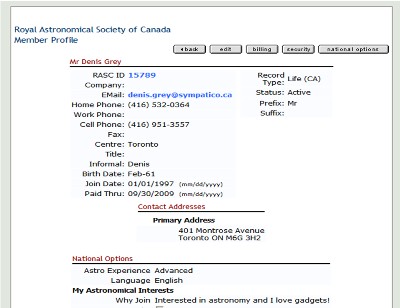 Member Profile allows you to Update your Personal Information
National Profile
In addition to personal information, members can also now provide optional information on your astronomical and volunteer interests. Information on your astronomical interests helps your Society serve you better by allowing us to offer services and programs that match your interests. If you would like to help the RASC as a volunteer you can also use this form to indicate what kinds of skills you are willing to offer to either your Centre or the National Society.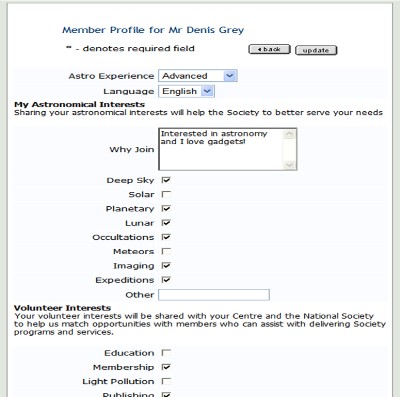 Identify your astronomical and volunteer interests
Member Billing
Your membership record includes your current billing profile. You can see your membership expiry date as well as any dues that are current and outstanding. Note that your dues generally become payable two months prior to your expiry date.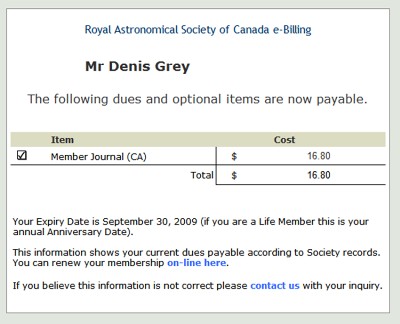 Member Billing Summary Shows Dues Owing and you Expiry Date
Order History
If you have purchased any items from the RASC eStore you can see your order history as well as the status of each item ordered.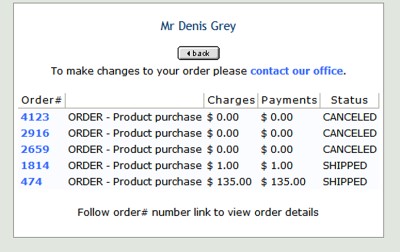 View your order history on-line
Our New eStore!
Speaking of orders you can now securely purchase RASC merchandise from our new eStore! Visit the eStore to purchase RASC promotional items and publications. If you login as a member you will receive member discounts automatically while you shop.
Post date:
Saturday, January 14, 2012 - 4:19pm