For the first time in 10 years, the inside of National Office has been painted. Where once were marked, peach-coloured walls, there is now mocha with white trim! The ceiling and some of the walls in the library and shipping area were included in the face lift.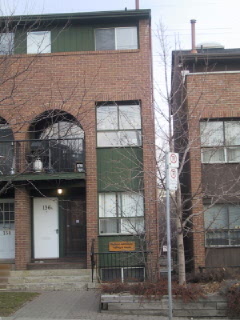 National Office in Toronto occupies the first floor and basement while the upper floors are rented.
This was an excellent opportunity to do some housecleaning! Bonnie Bird, Jo Taylor and Denis Grey prepared over 40 boxes of extra Handbooks, Journals, SkyNews, Astrophysics Abstracts, and various papers for recycling. An outdated computer and a heavy, walnut-veneer credenza were also disposed of. A hundred years of Observer's Handbooks and Journals were taken off the shelves, dusted and reshelved.
After three days of painting by College Pro Painters, National Office was ready to be put together again. A special thank you must go to Denis Grey who volunteered many hours to haul boxes, clean out drawers, wash windows, reconnect computers and networks, and even clean raccoon poop off the back veranda!!! Without Denis's efforts, it would have taken Jo and Bonnie several days to accomplish the take-down and set-up needed for painting.
The National Office sometimes has need of a handy person to do various jobs. If you have skills in this area, please contact Bonnie Bird at: nationaloffice@rasc.ca. At present we need one or more volunteers to transport the 40 boxes mentioned above to a recycling depot.
Post date:
Saturday, January 14, 2012 - 1:29pm