With star party season now in full swing many observers are in search of galaxies, nebula and perhaps a comet of their own. But don't forget to take a look at Comet Petriew this August as it peaks in brightness around mid-month marking the 2nd anniversary of it's discovery. Recently we caught up with Vance at his observatory: Vance Petriew Interview (YouTube video).
Discovered during the 2001 Saskatchewan Summer Star Party (SSSP) Comet 185P/Petriew has a period of 5.5 years which means that 2012 gives attendees of this years SSSP an opportunity to observe the comet with its discoverer and the 20-inch telescope he used to catch the interloper.

Vance Petriew with his telescope. Photo courtesy V. Petriew.
Glowing around 11th magnitude during August and riding high in Taurus early morning observers should take the opportunity to see "Vance's Comet" comet. He recomends using 8-inch and larger telescopes from dark sites. A coma of around 3 arc minutes is possible and although no tail has been seen visually CCD's should pick up significant extension pointing westward away from the rising Sun.
You will find comet Petriew cruising 5° north of M1 on 2012 August 15th and just over 1° of M35 on the 19th which should make locating it easy from dark locations.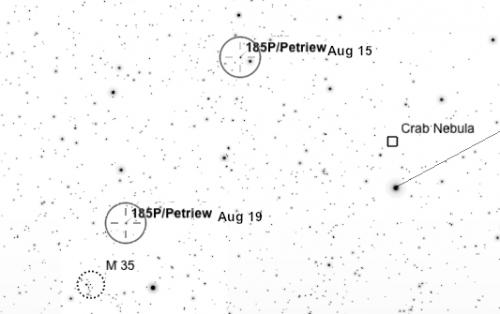 Chart by C. Beckett / Sky Safari
Post date:
Thursday, July 26, 2012 - 7:08pm