Get the newest issue of our flagship publication! Go to www.rasc.ca/journal/currentissue.shtml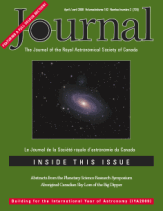 It's chock full of information from the latest Planetary Research Forum convened by Phil J.A. McCausland; Aboriginal Canadian Sky Lore of the Big Dipper by Frank Dempsey; great new colour images by Mary Lou Whitehorne, Pierre Martin, Wayne Malkin, and Bob Anderson; our regular group of columnists, and more!
Get yours now - earlier than ever before! Read and enjoy!!
Post date:
Wednesday, January 18, 2012 - 2:27pm