Saturday, July 29, was the tenth annual star night at the Pinery Provincial Park, located on the Lake Huron shore about 70km northwest of London. With 1000 campsites, Pinery is one of the largest of Ontario's overnight parks. 18 RASC London Centre members participated and there were 13 telescopes set up. A crowd of about 700 sat on the benches in the park Amphitheatre to hear RASC London Centre president Dave McCarter give an illustrated talk called "Tour the Summer Milky Way."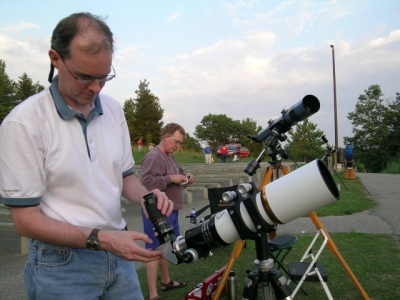 RASC London Centre members Fraser McCrossan and Eric Clinton set up beside the Amphitheatre at Pinery Provincial Park for the 10th annual star night there. (Photo by Dave McCarter)
Although there were heavy clouds all afternoon and thunderstorms in the region, the sky cleared at sunset. Through scattered clouds and heavy humidity, guests were able to enjoy the crescent moon, Jupiter and the other classic objects of the summer stargazing season. One guest, 14-year-old Nikki, invented a new constellation called "Nikki's Cross," which runs from Epsilon Ophiuchi and Delta Ophiuchi to Epsilon Serpentis and Alpha Serpentis, with the perpendicular portion consisting of Lambda Ophiuchi and Mu Serpentis. Pretty imaginative, that one!
London Centre members partied afterward -- as usual -- at the Tim Horton's south of Parkhill.
Post date:
Tuesday, January 17, 2012 - 3:18pm