What's the plan?
This project has a clear plan with four major Phases. We've learned from prior projects undertaken by individuals and Centres, and will avoid the pitfalls the pioneers encountered along the way.
Phase 1 - Proof of Concept, Fundraising, Equipment Acquisition
Phase 2 - Assemble Teams and Operating Models
Phase 3 - Pilot of Outreach, Science, and Time Allocation Programs
Phase 4 - Deploy full Outreach, Science, Imaging Programs Nationally
Future Phases - Expand, Promote, Enhance, and Sustain
Each phase brings new capabilities on-line, and is designed to allow sufficient time to develop reliable processes and relevant material to support the public outreach, member usage, education, and scientific programs.
Phase 1 - Proof of Concept, Fundraising, Equipment Acquisition
Key steps in phase one include more fundraising activity, acquiring and installing the equipment for a proof-of-concept. "Commissioning" the telescope refers to the process to setting up the equipment, verifying its correct operation, and configuring key components. This includes setting up the pier, mount, telescope, focuser, rotator, camera(s), control systems, computer and related software.
January 2018 Fundraising Approved. Fundraising for the project is approved. The campaign will start in late April once it is ready to launch.
During the early phases, the Society can initiate necessary purchases for the project by drawing on support of the Ruth Northcott Education Fund and the RASC Legacy Fund (also known as the Peter C. Millman Fund).
March 2018 - RASC board approves the purchase of a "starter scope".
We purchased a gently-used Paramount ME telescope mount and 0.4m f/8.9 RCOS optical tube assembly, located at Sierra Remote Observatories.
This modest setup will help us get started, and will support the initial proof-of-concept stages.
The telescope is shown here with a borrowed camera (tan box with heavy wires shown at the instrument back end) and other items that do not belong to the RASC. We hope to obtain our own camera in the coming weeks.
As fundraising continues over the next several years, we hope to upgrade the equipment to a more advanced 0.5 to 0.7 metre telescope and mount.
April 2018 - Donors and Sponsors begin to help
RASC president Colin Haig approaches several vendors of key equipment and software to see if they are willing to sponsor or donate equipment to the project, offer discounts, advice, or guidance to assure the success of the project.
May 2018 - May the Fourth be with you!
As of May 4, several generous donors and sponsors provided key computer equipment and software. Details will be unveiled in the coming weeks.
May 5th marks the point where staff at SRO installed the telescope equipment on site and begin the process to precisely polar align the telescope. This ensures that the telescope's right ascension axis rotates parallel to the Earth's rotation, to compensate for the apparent movement of the stars. Proper polar alignment prevents stars from drifting across the imaging camera's field of view.
On May 6th, Webmaster Walter MacDonald creates the initial RASC Telescope page to share this journey with you.
June 2018 - See Telescope News for current progress
We've started testing with our borrowed CCD camera, and are making progress on the technical side. This unprocessed image of the Ring Nebula (M57) will give you an idea of where we are at.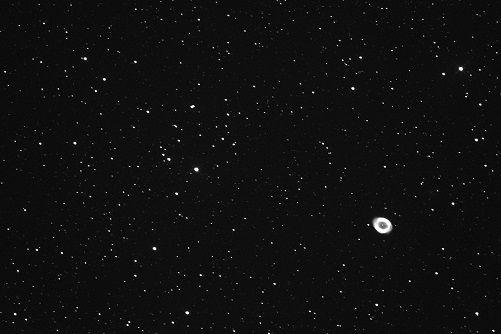 Phase 2 - Assemble Teams and Operating Models
We envision having small teams to support each of these three major activities:
Telescope Operations Team - small team of technical experts to develop and manage the back-end infrastructure to manage the acquisition, storage, and transmittal of images and related science data; to setup and manage telescope systems in conjunction with SRO technicians; Initial astrophotography program development to be used as a catalyst to refine operations and processes
Outreach Program - leaders to facilitate and/or develop quality programming for education and outreach
Science Imaging Program - a small team to help manage and advise users on effective science imaging
The intent is for the Operations team to directly manage the technical matters of the equipment and ensure reliable operation, as well as providing guidance to the Science and Outreach teams.
Phase 3 - Pilot of Outreach, Science, and Time Allocation Programs
This represents that point where we can initially make the RASC Robotic Telescope available to our user community.
Educational programs, science imaging, and scheduled time on the telescope to perform team or individual projects will each be a component.
Phase 4 - Deploy full Outreach, Science Imaging Programs Nationally
During the fourth phase, we will roll out the programs nationally, and move into normal operations over the long term.
Future Phases - Expand, Promote, Enhance, and Sustain
We see great potential to expand the Science and Outreach programs; to find new partnerships; and to enhance our offering and operate it in a long-term sustainable way.
Join us on the journey!
Post date:
Monday, May 7, 2018 - 12:55pm
Last modified:
Thursday, January 21, 2021 - 11:01am