Point Pelee National Park Dark-Sky Preserve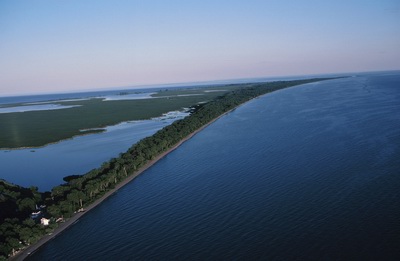 Each year the fly route of millions of migratory birds funnel through a small spit of land jutting into the western basin of Lake Erie known as Point Pelee National Park. As a result, Point Pelee has cultivated an international reputation as a birding Mecca. Moreover, the park is home to a rich and diverse natural ecosystem. Park staff is keenly aware of the importance of this precious sanctuary, and maintain a dynamic outlook in their regard for it natural preservation.
With a predisposition such as this, it was not a great leap then to see the value in extending nocturnal preservation through dark-sky protocol measures. Such ideals were presented to senior park staff at a meeting in July 2005. In fact, after the introductory meeting, the staff, led by Superintendent Marian Stranak and Warden Dan Reive, enthusiastically adopted the ideal of extending environmental conservation into the night.
An integral part of adopting the Dark-Sky Preserve model that Point Pelee has embraced is a willingness to consider night lighting as an environmental issue and its impact on the regional ecosystem. In conjunction, a public awareness program is conducted by which the public and the many thousands of naturalist that visit each year can learn about the reasoning behind dark-sky policies and the nocturnal impact.
Point Pelee is the first national park in Canada to adopt these standards. For their leadership the Royal Astronomical Society of Canada (RASC) conferred their Light Pollution Abatement (LPA) award. The RASC Windsor Centre also participated by presenting the inaugural issue of their Light Pollution Abatement award.
| | |
| --- | --- |
| | Windsor Centre President Steve Mastellotto and Park Superintendent Marian Stranak |
As evidence of the high regard for Dark-Sky Preserves, the staff graciously offered their most popular venue for the award presentation.
Each spring, the height of the migratory season is marked by the annual "The Festival of the Birds" event. The conference highlight is the dinner banquet. This year Dr. Bobby Harrison gave the keynote address on his recounting of the historic rediscovery of the Ivory-billed Woodpecker. The LPA award was presented just prior to his talk with ample time allotted to give a recount of LPA aspects to this international audience.
Windsor Centre President Steve Mastellotto gave the awards to Park Superintendent Stranak.
A light pollution primer was given to the largely ornithological audience by Dan Taylor, followed by remarks from Peter Goering, author of Canada's first Dark-Sky Preserve, the Torrance Barrens. Dr. David Welsh, Head, Environmental Quality, Parks Canada offered some thoughts on behalf of Parks Canada. In closing, Dr. Welsh noted that national parks are the 'low hanging fruit' by which such regard for nocturnal preservation can be seeded and develop in a fertile setting.
To this end, regard for nocturnal preservation should be an element of any ecological plan and welcome by those governing natural preservation sites.
Dan Taylor
Member RASC LPA Committee
Chair Windsor LPA Committee
---
Links
Point Pelee Presentation (Mastellotto)
Post date:
Tuesday, May 3, 2011 - 10:01am
Last modified:
Wednesday, January 1, 2020 - 10:03am