National Star Party – Saturday July 29, 2017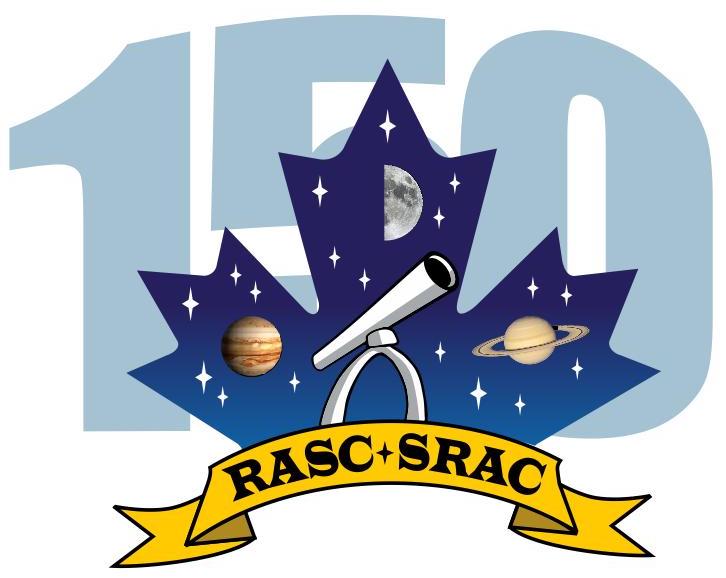 To celebrate Canada's 150th birthday since Confederation, the RASC and the Fédération des Astronomes Amateurs du Québec (FAAQ) are sponsoring a first – a National Star Party.
On Saturday, July 29, 2017, astronomy clubs from coast to coast to coast - will hold public star parties for the Canadian public at the same time. If it is clear, visitors will be able to observe a first quarter Moon and the planets Saturn and Jupiter. Even the International Space Station will make a pass or two that night. A handout specific to what is in the sky that night will be prepared and available for download and printing.
We hope that we can make this first National Star Party a success and bring astronomy to thousands of Canadians.
Here are handouts you can use for the Star Party - in English and French, in colour and black&white.
They have a star chart showing the positions of the Moon, Jupiter and Saturn on July 29.
Also the International Space Station is making multiple passes on July 29 - go to http://www.heavens-above.com and see when the ISS is passing over your observing site.
English Colour English B&W French Colour French B&W
Here is a list of RASC Centres and other amateur astronomy organizations which are participating in this National Star Party.
Belleville
...
Calgary
https://www.all-startelescope.com/information/observer-nights
Edmonton

TELUS World of Science: 9-11pm

https://edmontonrasc.com/2017/07/canada-150-star-party-saturday-july-29-2017/

Halifax
Halifax Centre RASC https://halifax.rasc.ca/index.php/activities/43-nova-east-star-party
Nova East Star Party
Smileys Provincial Park
Hamilton
Spencer Smith Park in Burlington @ 2PM- dark
Kingston
No event planned
Kitchener-Waterloo
...
London
Open House at Cronyn Observatory, Western University https://www.rasclondon.ca
Mississauga

Mississauga Centre members wil be setting up at the
Riverwood Conservancy 8:00 pm to 10:00 pm

4300 Riverwood Park Lane Mississauga, ON L5C 2S7 Directions

CF de Montreal
Montreal
Public Star Party Doors Open: 7:30PM Presentation: "Where Are You Looking"
8PM Public Observing (Weather Permitting) after the presentation
Location: Conservations Centre, Morgan Arboretum:
150 Chemin des Pins, Sainte-Anne-de-Bellevue, QC, H9X 3V9
New Brunswick

New Brunswick Centre RASC—https://rascnb.ca/
Camping Observing Weekend and Summer Stargaze—Mactaquac Provincial Park

also St. John—Irving Nature Park—http://sjastronomy.ca/national-star-party-irving-nature-park/ 9:00–11:30 pm

Niagara Centre RASC (npca.ca/conservationareas/chippawa-creek)
Chippawa Creek Conservation Area
Wellandport
Okanagan
The Centre runs a star party at Mt Kobau in late July.
Ottawa
...
Prince George
no event is planned
Quebec
...
Regina
no event is planned
Sarnia
...
Saskatoon
Saskatoon Centre: 10am - 3pm 2323 8th St E. Saskatoon, SK. S7J2P7
Sunshine Coast
No event planned
St. John's
Butter Pot Star Party
Butter Pot Provincial Park, 40km west of St. John's.
Thunder Bay
...
Toronto

Ontario Science Centre
770 Don Mills Road
TELUSCAPE, outside the Main Entrance
7:30 p.m. – 10:30 p.m.
Free admission
Parking is $10 per vehicle (Member discounts apply)
*Telescope observing is weather permitting. In the event of poor weather, star party activities will proceed on the Carlton Cards Mezzanine.

https://www.ontariosciencecentre.ca/Calendar/354

Also please see info for a second event hosted by Dunlap Institute with participation from RASC Toronto centre:

Join us for the Canada 150 Star Party at the University of Toronto! View the Moon, Saturn and Jupiter through our telescopes. And watch for the International Space Station as it passes over Toronto. Plus, have all your cosmic questions answered by the U of T astronomers and members of the Royal Astronomical Society of Canada (RASC) who'll be on hand.

https://universe.utoronto.ca/events/star-viewing-night-in-celebration-of...

Vancouver
Victoria Centre RASC
RASCals Star Party Metchosin (https://victoria.rasc.ca/rascals-star-party-2017/)
Dominion Astrophysical Observatory
(www.observatoryhill.org/content/events).
The event at Metchosin municipal grounds, on Happy Valley Road, includes afternoon solar observing and workshops. Note that there is limited attendance for the Dominion Astrophysical Observatory event, so book your FREE ticket in advance.
Winnipeg
No event planned
Windsor
...
Yukon
No event planned
Longueuil
Société d'astronomie de la Montérégie https://www.astrosamo.org
Mont-Tremblant
Club d'astronomie mont-tremblant https://astromt.org
Québec
Cassiopée https://sites.google.com/site/clubcassiopee/
St-Félicien
Club d'astronomie les Borealides du Lac Saint-Jean Ouest http://www.clublesborealides.com/
Montréal
SAPM https://www.sapm.qc.ca
Boisbriand
Club d'Astronomie de Boisbriand http://astroboisbriand.ca/
Lanaudière
Observateurs du ciel de Lanaudière http://cieldelanaudiere.ca/
Val-bélair
Club d'astronomie Io de Val-bélair https://clubdastronomie-io.org
St-Pierre-de-la-rivière-du-sud
Club d'astronomie le ciel étoilé de St-Pierre-de-la-rivière-du-sud https://sites.google.com/site/clubdastronomiedestpierre/home
Sherbrooke
Club des astronomes amateurs de Sherbrooke http://www.caas.sherbrooke.qc.ca/
Saguenay
club d'astronomie Sirius du Saguenay http://www.astrosurf.com/clubsirius/
Outaouais
Regroupement des astronomes amateurs de l'Outaouais québecois https://www.raaoq.org
Lanaudière
Vagabonds du ciel de Lanaudière vagabondsduciel.ca
Lévis
Club MARS de Lévis https://www.clubmars.ca
Bas-St-Laurent
Club d'astronomie du KRTB https://www.facebook.com/clubastrokrtb
Rimouski
Club d'astronomie de Rimouski http://www.faaq.org/clubs/rimouski/index.htm
Laval
Club des astronomes amateurs de Laval https://www.astronomielaval.org
Drummondville
Club astronomie Drummondville http://www.astrosurf.com/cadi/
Abitibi-Témiscamingue
Association des Astronomes Amateurs de l'Abitibi-Témiscamingue https://aaaat.faaq.org
Mascouche
Club Astronomie des Moulins INC. http://www.club-astronomie.org/
Dorval
Club d'astronomie de Dorval http://www.astrosurf.com/cdadfs/ 20:00 to 01:00 Dorval arena, 1450 Dawson av. Dorval, QC H9S 1Y4

Other Astronomy Organizations

Brandon

The Brandon and Area Astronomical Society will host an event at Spruce Woods Provincial Park. The observing will start at dusk following a presentation about Dark Sky Preserve plans for the park. Further information will be on our website and Facebook page.

Spruce Woods Provincial Park is located on Highway 5 south of Carberry

Sudbury

The Sudbury Astronomy Club and Science North will be working together to host our local version of the RASC celebration. It will be held at Dynamic Earth, starting at 8:30 or 9:00pm. If the weather is less than friendly to sky gazers, then we will move indoors to provide astronomy related program in the auditorium at Dynamic Earth.

122 Big Nickel Mine Dr, Sudbury, ON P3C 5T7

High River, Alberta

The Big Sky Astronomical Society will host an event at the Big Sky Observatory. This event will start at 8:00 PM with observing starting at dusk and ending at midnight. Further information is available on our website and Facebook page.

The Big Sky Observatory is located at the Twin Valley Dam, which is on Highway 529, approximately 54 km southeast of High River.

http://www.bigsky.ab.ca/events.html

North Bay

The North Bay Astronomy Club will be at the waterfront in North Bay for afternoon solar viewing from 3 until 5 pm. We plan on returning for evening viewing at approx 830 to 9 PM. This is of course weather permitting.