Mary Lou's New Telescope /
Le nouveau télescope de Chloé
Written by: Don Kelly / Illustrated by: Mike McEwing
Note: Both books, specially printed and made available free of charge during International Year of Astronomy, are now out of print. The online version is also no longer available.
Mary Lou's New Telescope is a children's book which addresses the mandates of three of our RASC committees: Observing, Education, and Light Pollution Abatement. The story is about a young girl who is fascinated by the night sky. As she learns more about the stars and planets, she receives her own telescope for her birthday. She quickly discovers, however, that lights in the city interfere with her observing. She visits her grandparents farm and sees the sky from a dark-sky perspective. With her parents' support, she meets with their city's engineering department. She is able to convince the city's lighting engineer to try full-cut-off lights in her residential area. Successful, she pursues a hobby of observing, which leads to her RASC Explore the Universe Certificate.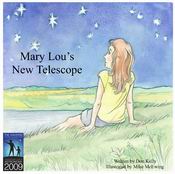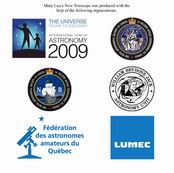 Le Nouveau télescope de Chloé est un livre d'enfants qui aborde trois sujets d'intérêt en astronomie : observation, éducation et contrôle de la pollution lumineuse. Il s'agit de l'histoire d'une fillette fascinée par le ciel étoilé. Après s'être informée sur les étoiles et les planètes, elle reçut un télescope pour son anniversaire. Cependant, elle découvre vite que les luminaires de la ville l'empêchent d'observer. Elle visite la ferme de ses grands-parents et grâce à la noirceur de la nuit, elle voit un ciel étoilé. Avec le soutien de ses parents, elle se rend au département d'ingénierie de la ville et peut convaincre l'ingénieur de l'éclairage d'installer un éclairage sans débordement, dans son quartier. Suite à ce succès, elle poursuit des observations qui lui donnent droit au certificat 'Explore l'univers' de la SRAC.