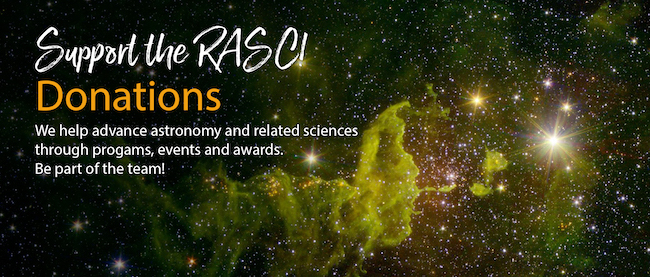 The Royal Astronomical Society of Canada (RASC) encourages improved understanding of astronomy for all people, through education, outreach, research, publication, enjoyment, partnership, and community.
Your generous support will help to support initiatives geared towards advancing astronomy. Without the generous support of people like you, meeting the objectives of the Society would not be possible.
Major donations and bequests in recent years have given us the resources and ability to print thousands of Star Finders for the International Year of Astronomy (IYA2009), and more recently the Moon Gazer's Guide, a one-page card featuring a Moon map, with descriptions of lunar phases and eclipses.
The RASC uses Sustaining Donations to reimburse travel and accommodation under the Public Speaker Program, where Centres sponsor a speaker to come from out of town to speak on astronomical or other topics.
The Canada-Wide Science Fair receives two prizes from the RASC each year as the Award for Excellence in Astronomy, one Intermediate award and another in the Junior category.
Through its Awards Program, the Society recognizes long service with significant achievement, outstanding contributions in education and public outreach, writing excellence, work of lasting value in astronomy, and achievements of overall importance to the RASC. These awards not only recognize our many volunteers, but they also encourage others to strive for the same lofty goals.
The RASC is a registered charitable organization under the terms of the Income Tax Act. Our CRA registration number is 11912 6282 RR0001.
Ways to Give
The RASC is pleased to be able to offer its donors several options for contributing to the work of the Society. Donations can be directed in one or more of the following areas: