Join us on this journey
Come with us on our journey to the stars. Monitor our progress with this telescope news blog. It's our way of sharing the behind-the-scenes work that will get the RASC Robotic Telescope ready to explore our universe.
Be the fuel that propels us forward with a donation.
The latest news is at the top, and you can scroll down to see a few images and our progress.
2018-08-31 Hunting for Asteroids
We've all heard how a rogue asteroid smashed into the Earth near the Yucatan Peninsula, and wiped out the dinosaurs. In happier news, the RASC, the Burke-Gaffney Observatory at St. Mary's University in Halifax, and Pan-STARRS observatory in Hawaii received an interesting request on August 26th.  The idea was to attempt an image of Asteroid (11580) Bautzen, as it was near opposition, when it would be detectable due to being better lit by the Sun.  SMU's Dave Lane calculated it would likely be too close to the moon, and difficult to detect. 
We decided to attempt this challenge with the RASC Robotic Observatory in California, and you can see the result below.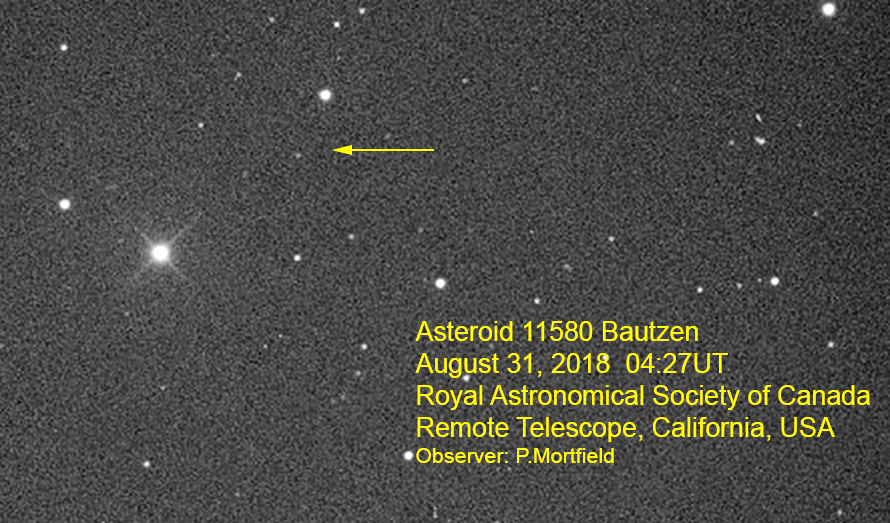 Paul used the new CCD Camera and a Hydrogen Alpha filter to block out most of the moon's glare. 
We were pleased to hear the Pan-STARRS survey telescope also captured an image, on the 26th.
2018-08-30 Planning Meeting
We held a 2-hour planning meeting in Vaughan, Ontario, on Thursday evening to discuss current state of the project and immediate next steps.  Executive director Randy Attwood will be sending an update out in the next newsletter to members.
We touched on the remaining technical activities and science-related activities as well as astrophotography ideas, and the challenges of managing all the data that the system can produce and how best to share it. We'll be working through many of these ideas and issues over the next few weeks.
2018-08-22 Planned Down Time
We receive timely and advanced notice of any work planned at SRO so that we can adkust our activities or suspend the scheduled work for the telescope.  Mel Helm let us know about some upgrades that they would be doing over the next few days. 
Jim Goetz took this nice picture of Mel beside our telescope.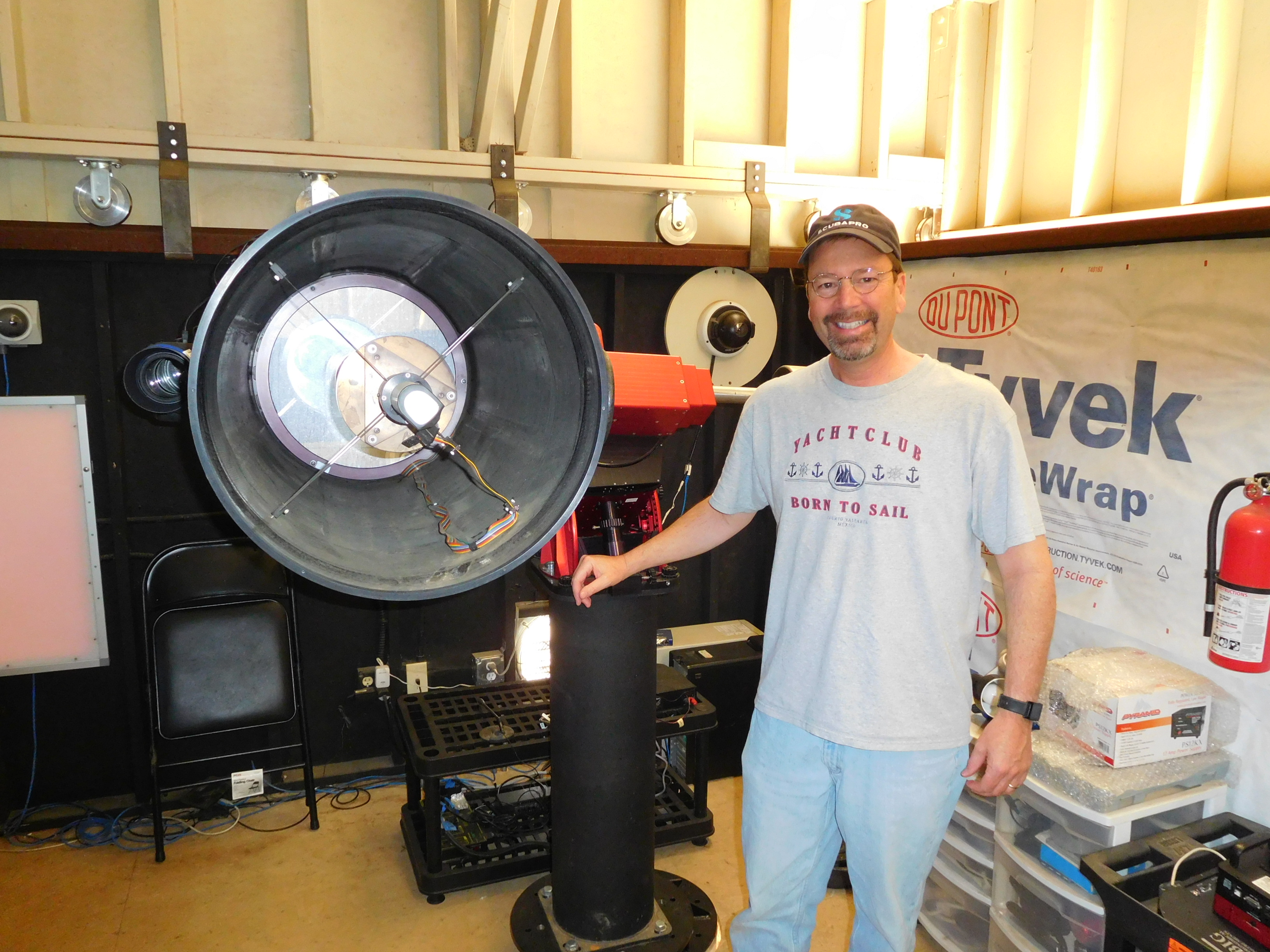 The time around full-moon is always best for everyone to schedule updates, maintenance, and other work, as the bright night sky isn't ideal for capturing images of faint objects.  We have to plan around the moon for many of our activities.
2018-08-15 Telescope Performance
How much work can the telescope do?  What can we expect?  This depends on the type of task.  Deep sky images take a lot longer than a hanful of shots to look for a specific asteroid.  The exposure times are different, but there are "overhead" steps that must be done for any image.There's a limit to how much the telescope can do. We need to understand what is possible and what is practical. 
Getting a single image involves these steps, and each step takes time. Here are some factors that go into it:
Time to slew to the target - can be up to about 120 seconds
Focus Adjustment - could be 30 seconds or more. We need to test this out. Not needed for every image
Rotate to desired position angle - perhaps 30 seconds.
Select desired filter - perhaps 5 seconds
Take initial image - 30 second exposure, 2 second digitization, 10 second download = 42s
Plate solve to verify pointing - 3 seconds
Start guiding - 5 seconds
Take image - for some objects, 30 minutes = 1800 seconds + 2 + 10 = 1812 seconds
Plate solve and save - 3 seconds
Total: 2050 seconds, or about 34 minutes. That's about 250 seconds (4 minutes) lost to do the  "overhead".
To do a tri-colour image, we have to do two more images and two more filter changes.  Each filter change could potentially require a small focus adjustment. Exposures are often longer on certain filters. So, a total of 2-3 hours or more. A high quality deep sky image can easily take 20 hours of telescope time.
We will need to work on optimizing the performance of the telescope once we better understand how long steps typically take. We can do this once we start getting real data, and start examining the logs. Reducing the overhead will help us get more images in a given night.
2018-08-10 Twenty Days of Continuous Testing and No Sleepless Nights
 Automation testing ran for 20 days.  We gave ACP Scheduler control of the telescope on July 21, and began monitoring for any issues.  Each night, ACP Scheduler would go through its nightly routine, subject to the weather/smoke/roof status.  It would happily report:

The Dispatcher is the part of the scheduler that figures out what to do and when.  This includes figuring out the eligibility of a plan. Plans are used to determine what target you want to observe, and the details of the image set, which filters to use and how long an exposure.  Criteria can include things like seeing conditions, proximity to the meridian (eg it is high over head), moonlight, and so on. We had a small handful of objects scheduled, and when we remembered to submit the observing plan, scheduler startup, review the eligible plans, and the Dispatcher would send the activity to be run.
A few issues did pop up in the logs, and happily the telescope successfully shut down every time without any manual intervention.  We never needed to reboot anything or get out of bed.
2018-08-08 New MaxIm DL Pro 6.18 released
Our sponsor Diffraction Limited released a new update to their MaxIm DL software, enhancing its capabilities.  We've decided to evaluate the new release and to monitor the Diffraction forums to assess if there is any risk to installing te new software.  Initial reports are good, and my local installation went smoothly.  We'll decide when to update the production system, and feel it's best to be conservative with any updates or introducing any changes to the system.
2018-08-03 Smoke Detection Initiative
Smoke from the nearby forest fires continue to be an issue. SRO purchased and installed a laser particle detector. This device shines laser light through the air, and can differentiate between large particles from pollen and smaller particles from smoke. They are adding this to determine if it is safe to open up the roof of the buildings A sample graph from the particle detector is shown below.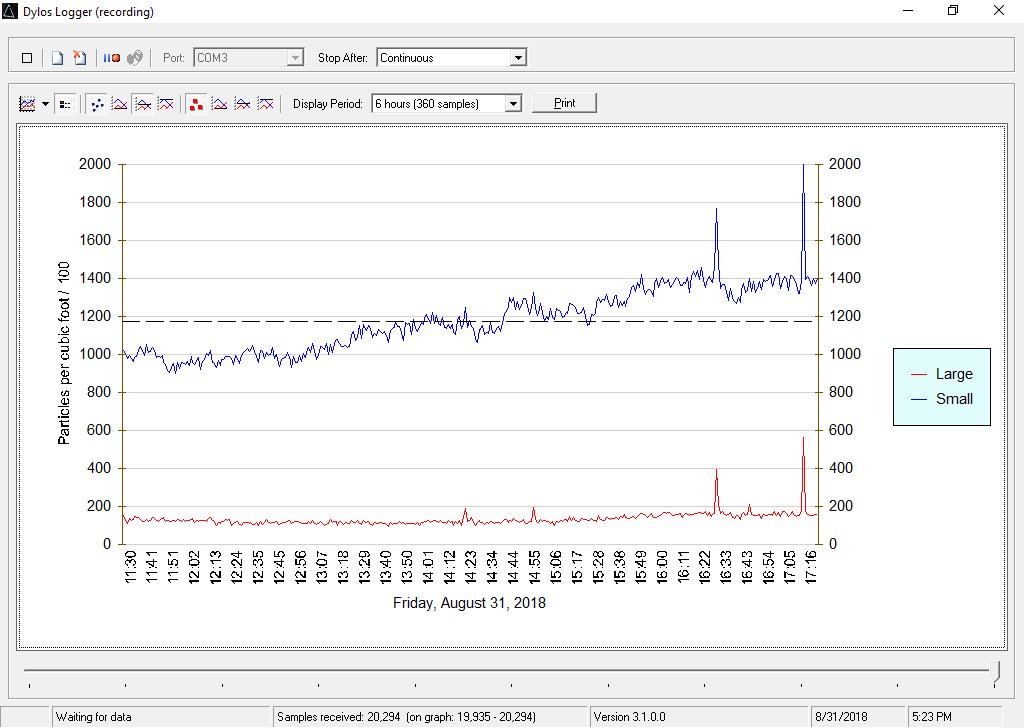 2018-08-02 Connecting the CCD Camera
The new CCD Camera includes the filter wheel, a self-guider ahead of the filters so that it does not receive filtered light, and an AO-X adaptive optics unit to take some of the shimmer out of the stars.  This means that there is less distance between the front of the camera and the Preciision Instrument Rotator (PIR) on the back of the telescope. A custom adapter has been ordered from Precise Parts to solve this. It will be several days before the new part arrives. This is one of those items that you can't totally anticipate in advance.
2018-07-25 Where is Smokey the Bear when you need him?
Forest fires are raging in western Canada, with nearly 600 fires in British Columbia and northwestern Alberta. The dry conditions experienced here continued all the way down the Rockies and Sierra Nevadas. Lightning, dry conditions, and people appear to be the cause of many of these fires.
Several major fires were blazing in California, including a major fire at Yosemite National Park, less than a two hour drive from SRO.  (Credit: Map exerpt below modified from a Google Maps image).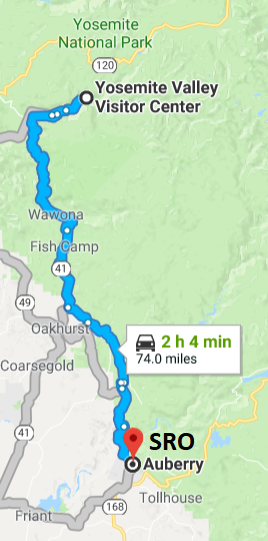 Leadership decided the best thing was to keep the roof closed on all buildings, and we received an operational update on this situation daily until the smoke began to clear up.
We had to wait until the beginning of August to see some relief.
2018-07-23 Shiny Side Up
The optical filters mentioned below are an essential and expensive part of the imaging system.  They block the unwanted light, and allow just the wavelengths we need to reach the CCD camera imaging sensor.
A common question every body asks - which way do they go in?
They go shiny side up - toward the telescope. One side has a more refective appearance, and that needs to go to the source of incoming light, to block everything but the wavelengths (colours) we want to come through. If you put them in backwards, you'll get undesiable reflections, sometimes known as ghost images.  This can be really annoying, as you may think you've suddenly discovered a whole bunch of unknown objects.
2018-07-21 Camera and Jim Goetz arrive in California
We all breathed a sigh of relief when SRO staff confirmed they received the camera on the 19th.
Jim, seen here next to the telescope took dozens of photos of the equipment and site as a reference. Big thanks to Jim for making this extra stop and taking the time to take and send along these images.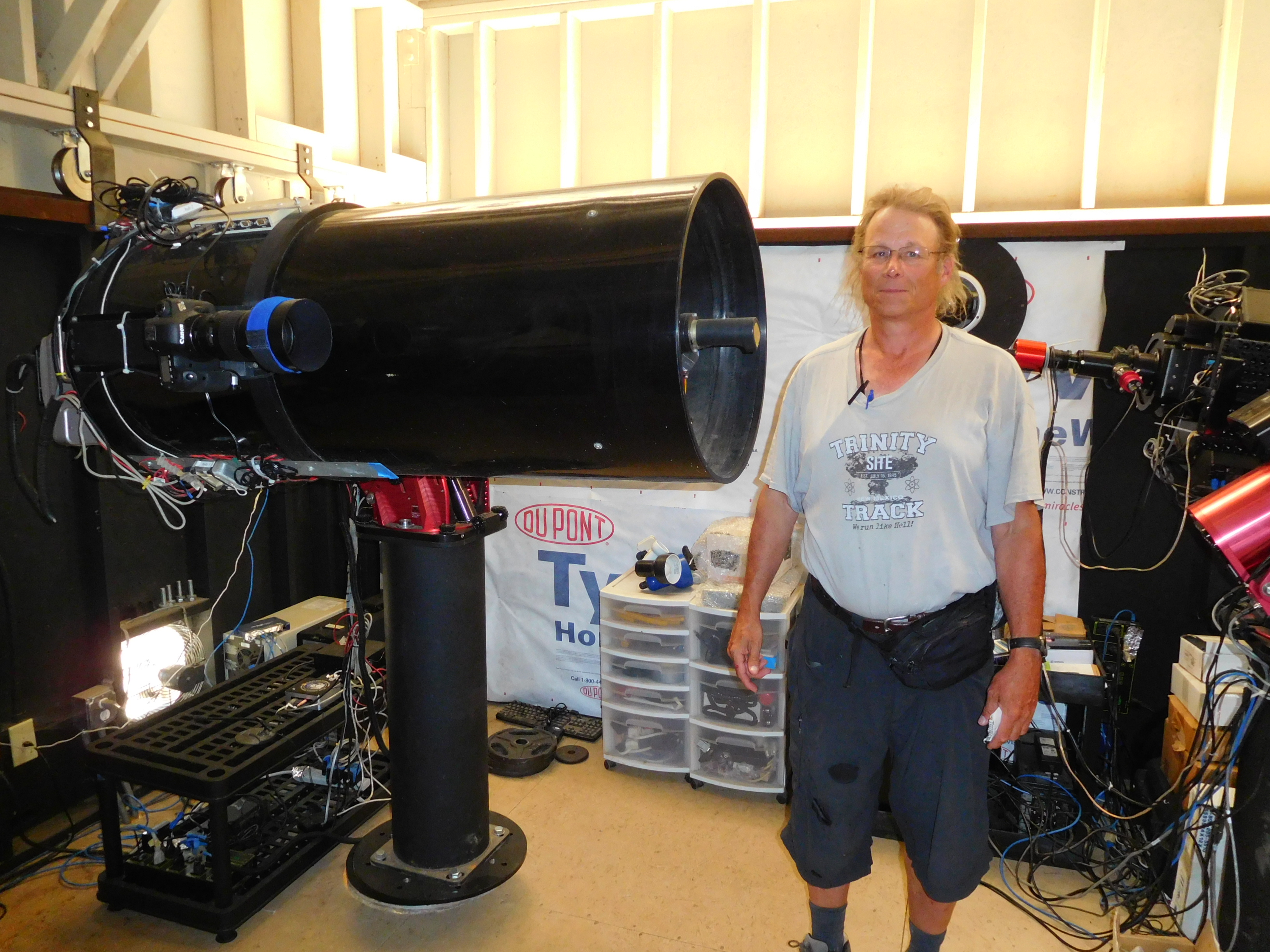 Jim sent us this photo, showing the partially assembled CCD camera.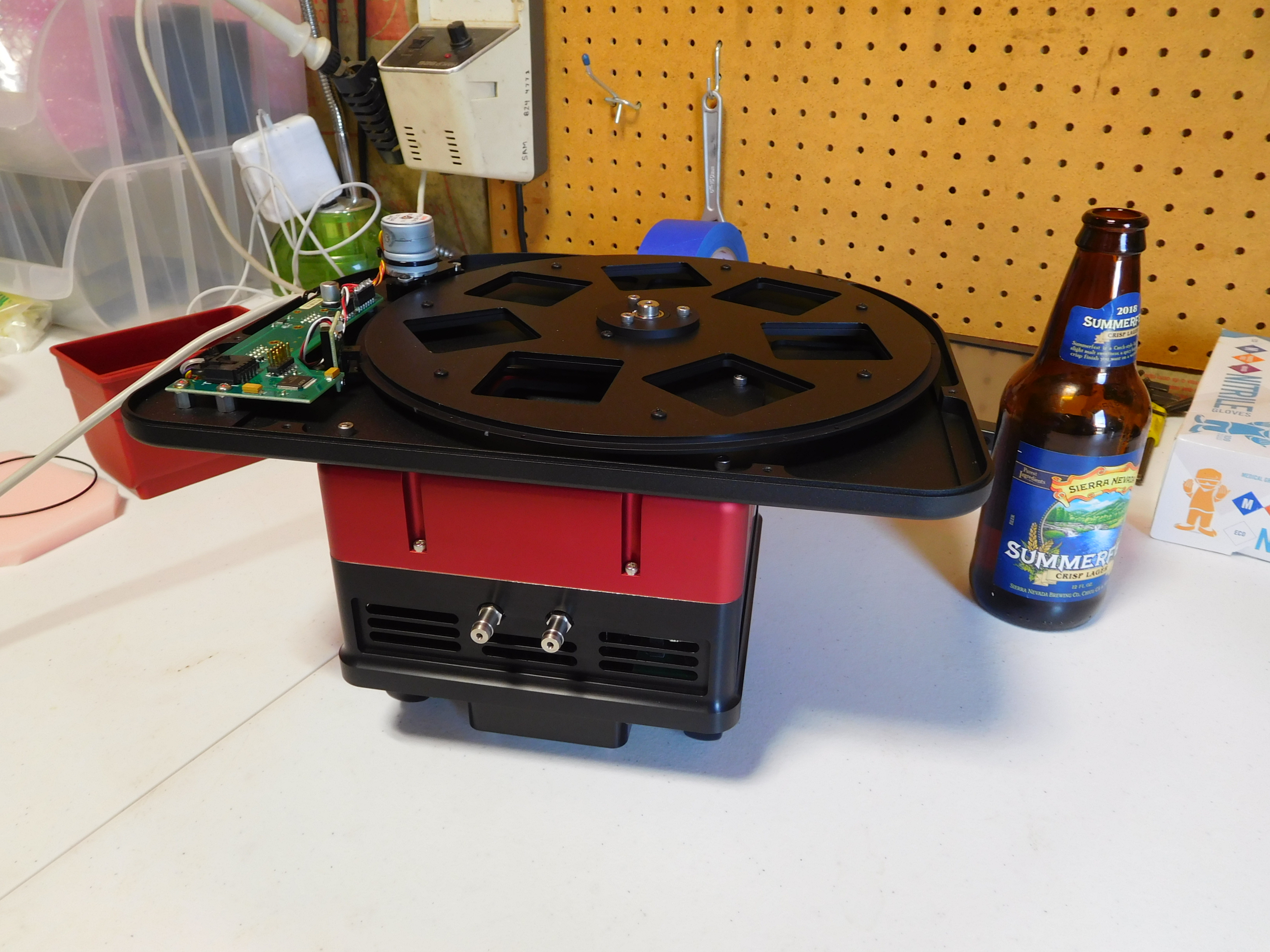 (We hope the Sierra Nevada bottle is there to show the scale, so you can get a sense of size).
The big square holes are for the optical filters - we have seven, Luminance, Red, Green, Blue, Ha Hydrogen Alpha (deep red), SII Sulphur II (deeper red), O3 Oxygen III (green). 
2018-07-20 Automation Milestone Passed
This is the night when the first of many little emails arrived from the our telescope.

A big thank you to DC3 Dreams, SP !  Their software helped make this happen.
This was the first time ACP Expert Scheduler let us know it was successful with automatic power-up of everything, automatic launch of all software, automated acquisition of scheduled tasks, and automated shutdown of everything. And no headaches when roof safety system closed the roof in the morning. Worked great. We will have to see how it works after a few days of running and will examine the logs for any anomalies.
2018-07-13 Good news on Friday the Thirteenth - Camera ships!
Diffraction Limited, a key supporter of this project, let us know the new CCD camera left Ottawa for Fresno, California.  (I must have hit "Track Shipment" twice a day since this happened). Exciting stuff!
Of course, without Renata Koziol's help in our office, this never would have happened. She tracked down all the information to enable the RASC's new camera to be shipped to SRO, and deserves a thank-you for her unusual effort that is a bit out of the ordinary. Thanks Renata!
2018-07-11 Yes Jim Goetz Really Is Going
Kitchener-Waterloo Centre member Jim Goetz confirmed he was heading to California - and asked if there was anything he could do to help.  Normally SRO isn't set up for visitors, and frankly it's not safe to be in the buildings as the telescopes can move at any time.  Dr. Helm agreed to give Jim a tour, and Jim agreed to take some photos of the equipment for us. Look for those above.
2018-07-03 Sierra Remote Observatory Weather Monitoring
Mel Helm of SRO kept us up-to-date on forthcoming improvements to the weather safety system at the site.  Meanwhile, Colin began full automation testing - so that the telescope would wake up around sunset, wait for the weather to become safe, and begin any scheduled work or live observing, and then automatically shut down either at the apppointed time or when the weather changed.  This testing would go on for several weeks.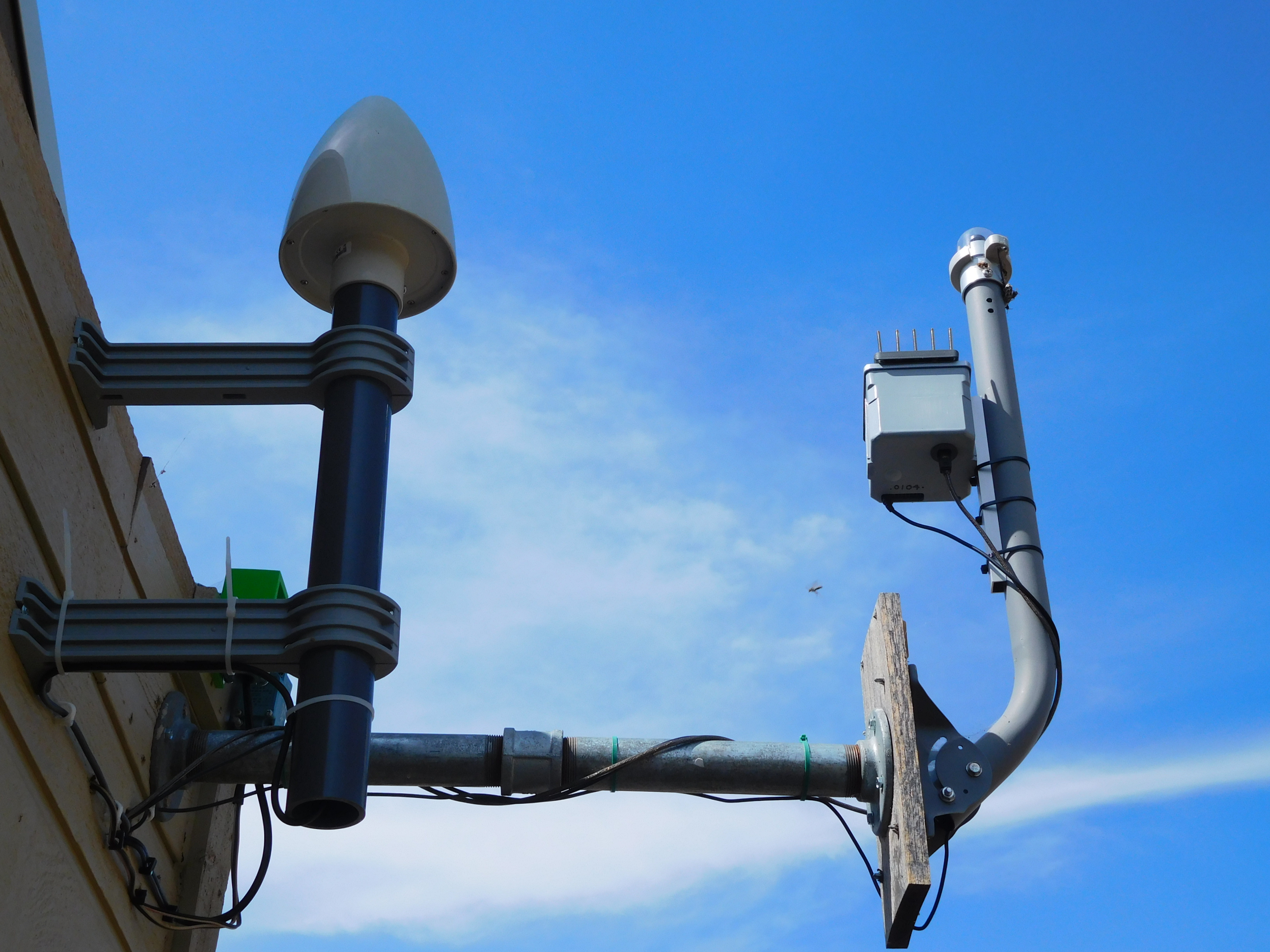 This image of some of the weather and sky monitoring sensors courtesy of Jim Goetz, KW Centre.
2018-07-02 A little help from Down-Under
A special thanks to Terry Robison, an ACP and RCOS user based in Australia. He provided some useful information on the equipment and how he has set up some software for similar needs.
2018-06-28 to 2018-07-01 General Assembly 2018 - 150th celebration
In Calgary, Alberta, the RASC executive director Randy Attwood and RASC outgoing president Colin Haig (your author) shared more about this special 150th project with a few hundred people in attendance at the conference.
On June 30th, Paul M sent us two images taken the previous night. 
This test image of the Crescent Nebula was a single 30 minute exposure taken through the telescope prime focus on the loaner STL11000 camera with the Hydrogen-alpha (deep red) filter on June 29th. The image was dark-subtracted to get rid of noisy pixels, and no other processing.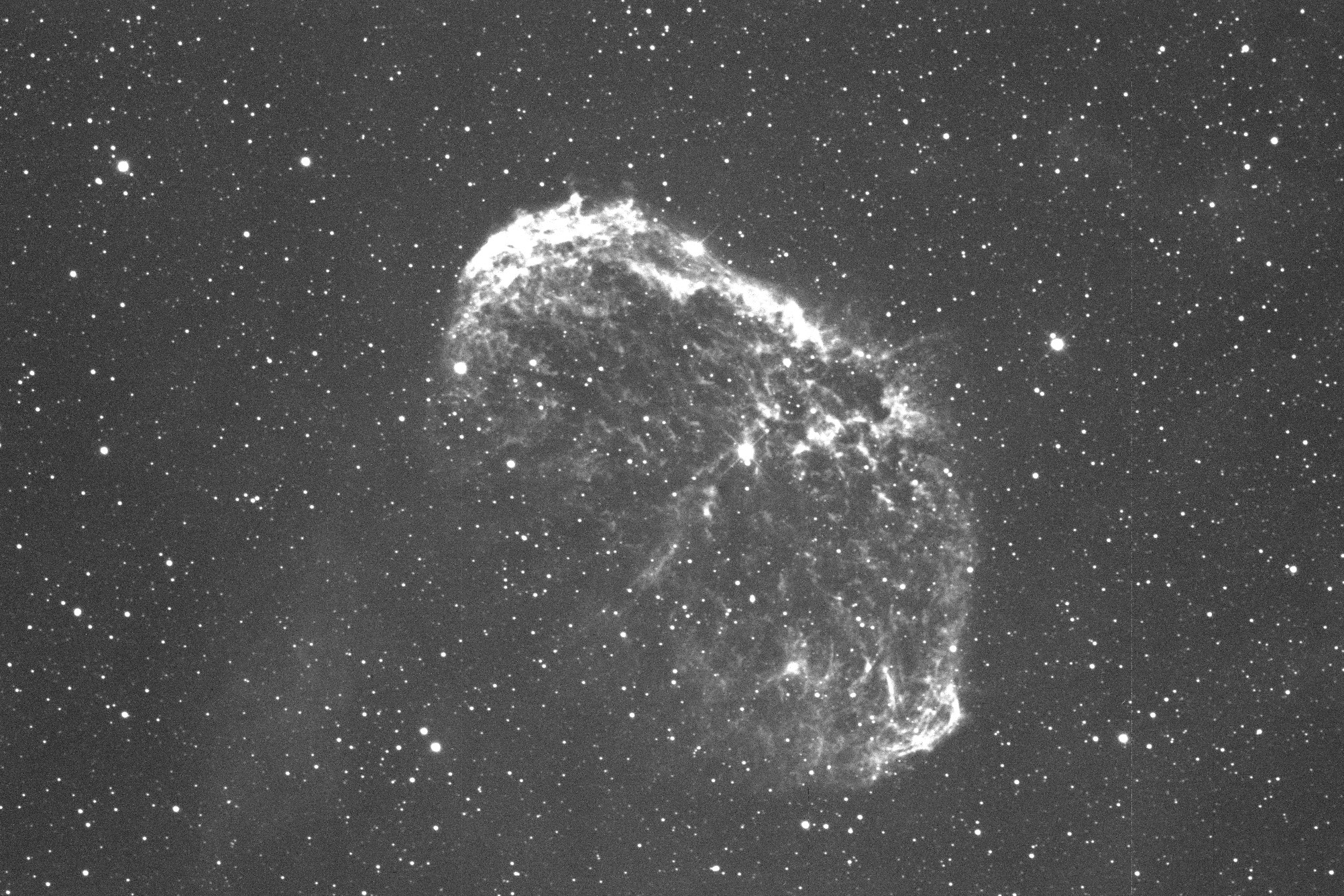 This impressive colour image below was taken with Colin's Canon 6D Digital SLR and a 200mm f/2.8 lens that rides on top of the telescope. It has a much larger field of view, and takes colour images. Paul did a quick correction in Adobe Photoshop.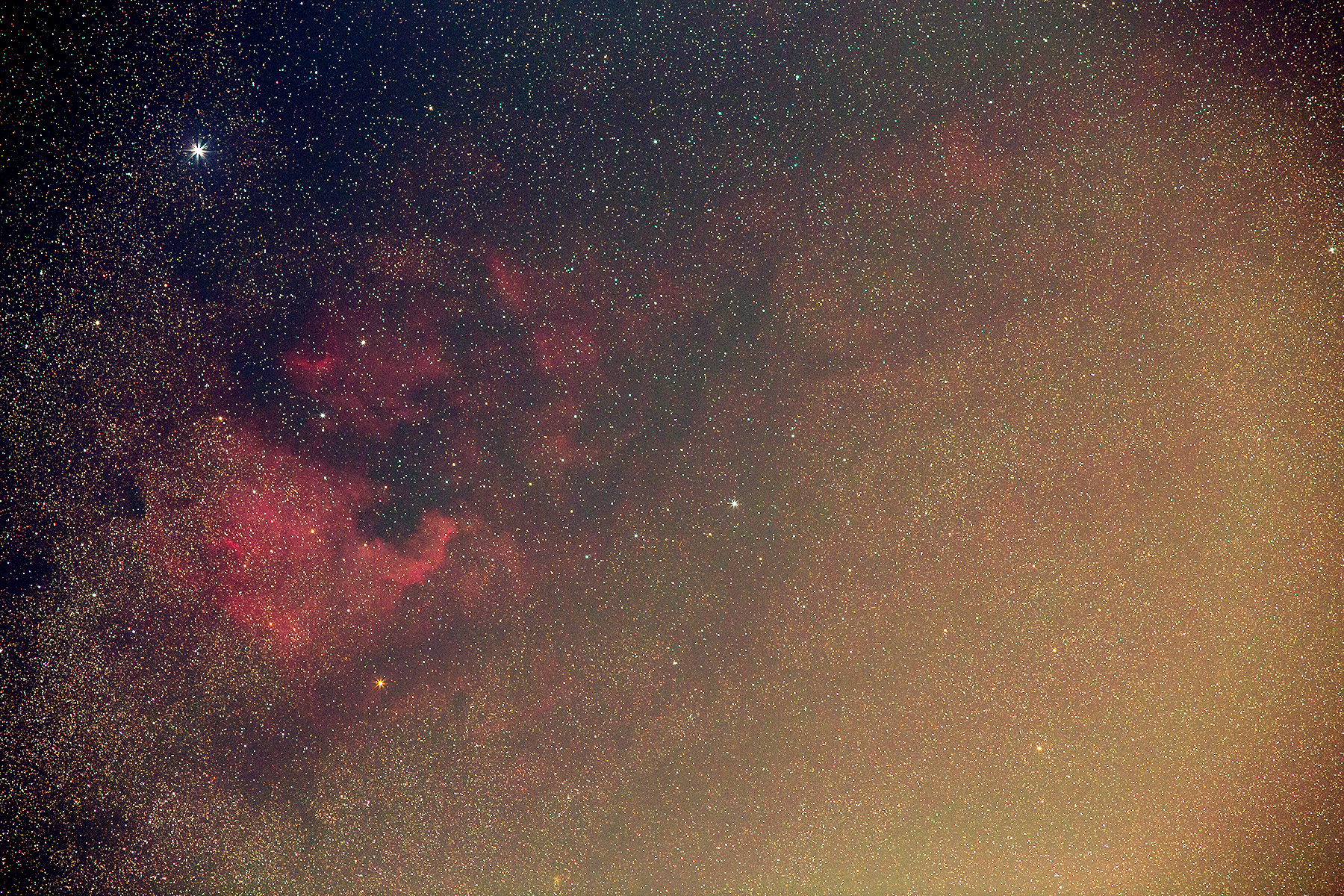 Colin asked the crowd for their feedback, and as a result, will likely donate the camera and lens (about CAD$2700) to the project in the coming months.
We are anxiously awaiting the arrival of the SBIG Imaging Systems STX16803 CCD camera from one of our key supporters, the fine people at Diffraction Limited.  Due to the high demand and rarity of the high-end components, we knew it could be weeks before the camera would ship, and they kept us up-to-date.  Thanks Diffraction Limited!
2018-06-27 Weather Server Improved
We are connected to a new weather server, shared by JPL and other organizations. Working well.
2018-06-25 The Eagle Nebula
The Eagle has landed. Almost.  This image of M16 is a single 5-minute, unguided exposure, with dark and bias calibration. The image was taken on the 21st, and the improved pointing model is a success.
2018-06-23 New Weather Report
As an improvement to the weather monitoring at Sierra Remote Observatories, there is a new weather snapshot with a lot more detail than the old version: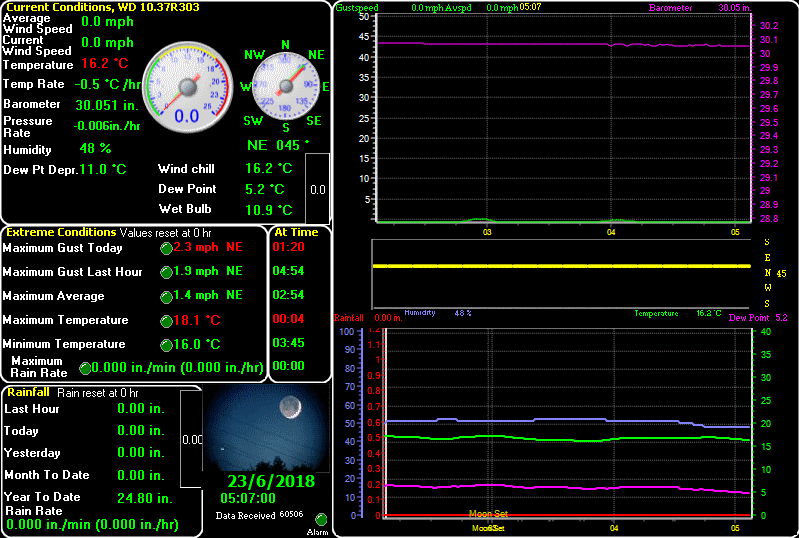 Weather data including trends and additional info like the Moon Set time is very important for the operation. Changes to the weather monitoring system require minor software configuration changes for our setup. Until that is done and tested, we have to pause some of our efforts and keep the telescope safe.
2018-06-22 Keeping our Telescope (and our Planet) Safe
Sierra Remote Observatories has automated monitoring to keep the keep the equipment safe.  For example, there is a weather monitoring system that prevents the roof from opening, or closes it if the weather is getting worse. There are sensors for temperature, wind speed, humidity, and cloud cover. Windy days, rain (which is quite rare), and heavy dew are all good reasons to button up the roof.
SRO monitors electrical power as well.  We received an email at about 1:30am today (Friday, the 22nd) advising that they would be pro-actively keeping the roof closed due to power concerns affecting electric utility customers including SRO in that part of California. This pro-active approach is very reassuring.
Equipment safety is a priority for SRO.  Planetary safety should be a priority for everybody.  Professional astronomers at the Harvard-Smithsonian Center for Astrophysics operate the Minor Planet Center. According to the MPC website, the organization is "responsible for the designation of minor bodies in the solar system: minor planets; comets; and natural satellites. The MPC is also responsible for the efficient collection, computation, checking and dissemination of astrometric observations and orbits for minor planets and comets". 
Astronomers use this data to know where asteroids are and any objects that could come close to the Earth can be tracked. It is crucial to predict potentially damaging impacts.
The MPC shares this data.  After downloading it and a few minutes work processing it, the latest data for comets and minor bodies is now available for use in our ACP Observatory Control Software.  Here's a sample using one of our members who just happens to have an asteroid named after him:

Jameshesser:
    Desig =                   39791
    Epoch =                   2458200.5 (Julian)
    Mean Anomaly =            116.25746
    Mean Daily Motion =       0.36297844 (deg/day)
    Semimajor Axis            1.9463256 (AU)
    Orbital Eccentricity =    0.1047371
    Arg. of Perihelion =      279.10744 (deg)
    Long. of Ascensing Node = 150.54706 (deg)
    Inclination =             23.61005 (deg)
Jim Hesser served as our Honorary President for several years, in addition to having a lengthy career as a professional astronomer who made significant contributions to Canadian astronomy. He's still quite active in the RASC and professional community.
Equipped with this data, our users can make observations of minor bodies, and perhaps keep our planet a little bit safer.  You could, for example, schedule an image set for "jameshesser" a.k.a. "MP39791".
2018-06-21 Targets in the cross hairs
After review of the TPoint model yesterday, it was time to test out the pointing with some real images taken around 4:30am EDT/1:30am PDT.  You can see here that the galaxy M81 and open cluster M4 are close to centre, but not perfect.

The results were sufficient to start mapping the local horizon for trees, buildings, and other obstacles. We'll use this later on to set some practical limits on where in the sky we can get images without obstructions.
During the test run, I found it hard to picture how low in the sky the Big Dipper and northerly objects would appear over the local horizon.  The southerly latitude of the site in California at 37N is 12 degrees lower than most Canadians from the western provinces would have grown up with.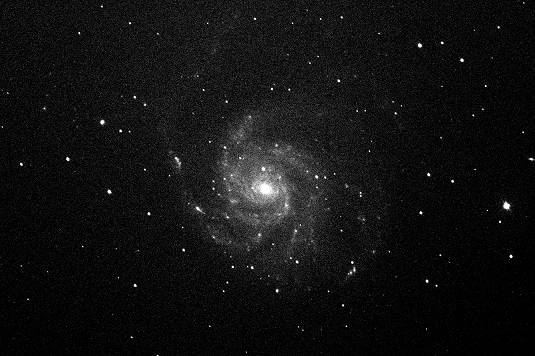 A small image of the M101 spiral galaxy showing beautiful spiral arms.
2018-06-20 Pointing Accuracy and the only Super Model in Astronomy
Several of the images we've taken so far have shown the object of interest is slightly off-centre.  So we started work to improve the pointing of the telescope.
This cropped image of M24 shows the open cluster and a few bright field stars.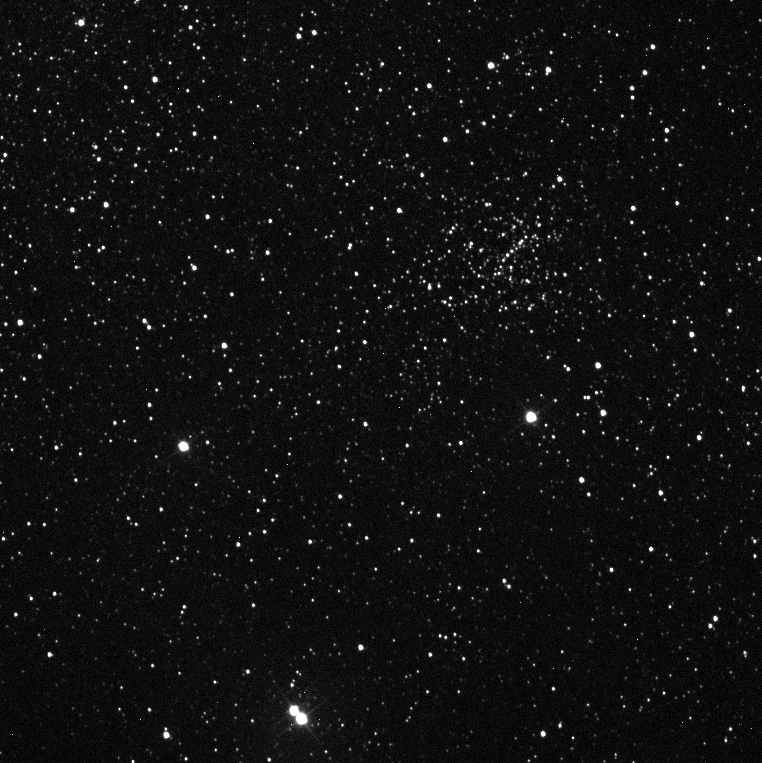 Ideally, we'd want that object in the centre of the field. It is a real challenge is to ensure that any telescope is pointing correctly.  To adjust for this, we use the TPoint feature of Software Bisque's TheSky X Professional telescope control software.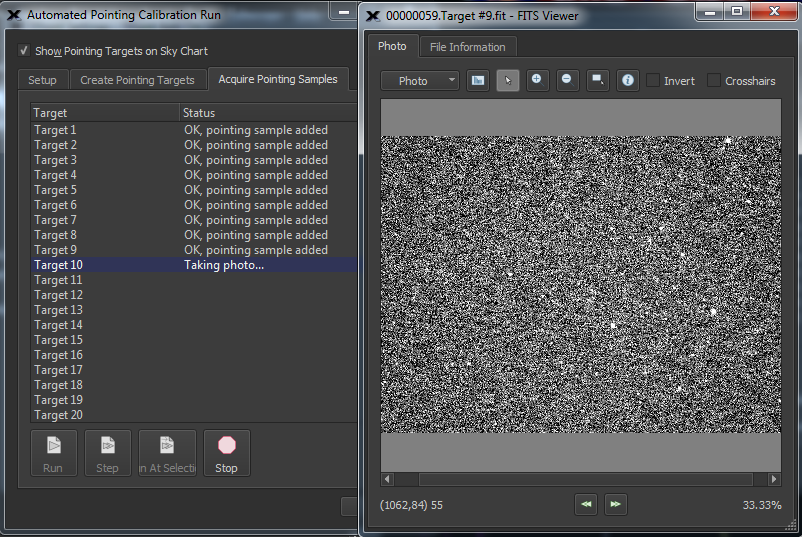 With a bit of startup help from us humans, the Automated Calibration Run will take snapshots of about 60 points in the sky with the SBIG CCD Camera. It then figures out where the stars are, the brighter points in the image, and through a technique called "plate solving" maps the detected stars against a database of charted stellar positions.  At the end of the process, we know how much to correct for any inherent pointing errors.
How do we do that correcting?  With the help of a Super Model of course!
Super Model?  Not a Tyson Beckford, Ashley Graham, or Cindy Crawford. A mathematical model of all of the ways error can creep in to impact the pointing accuracy of the telescope.  In our case, we took an initial star position, measured it to be out of alignment, made a correction, and then took 60 additional points around the sky.  Using the TSX TPoint Super Model capabilities, it calculates the amount of correction needed for each direction that the Paramount ME will point.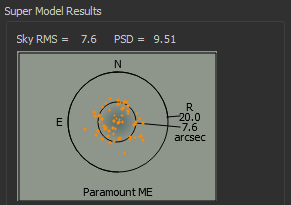 After the Tpoint calculations are complete, we can generate a Super Model, which will refine the error corrections to the mathematical model.  In the results graph shown above, you can see our telescope will generally point within 7.6 arc seconds. This good result gives us confidence that the mount is running well.  With a bit of effort, we may be able to improve this further.  That will involve mechanical adjustments to eliminate any flop, misalignment, flexure, and other imperfections.  Gathering additional Tpoint samples will improve the model further.
The Polar Alignment report is good, and it may not be worth trying to improve.
The adjustment to raise the polar axis is very small, and we'll consider making that adjustment.
2018-06-12 Digital Single-Lens-Reflex Camera
Fundraising continues, with donations coming in daily. We're all very excited about this project, and are glad people like you are supporting us!
On a technical note, Sierra Remote Observatories helped install an improved power adapter for the Digital SLR camera, and a dew heater strap for the 200mm f/2.8 lens.
A potential cabling issue with the precision instrument rotator was hopefully resolved.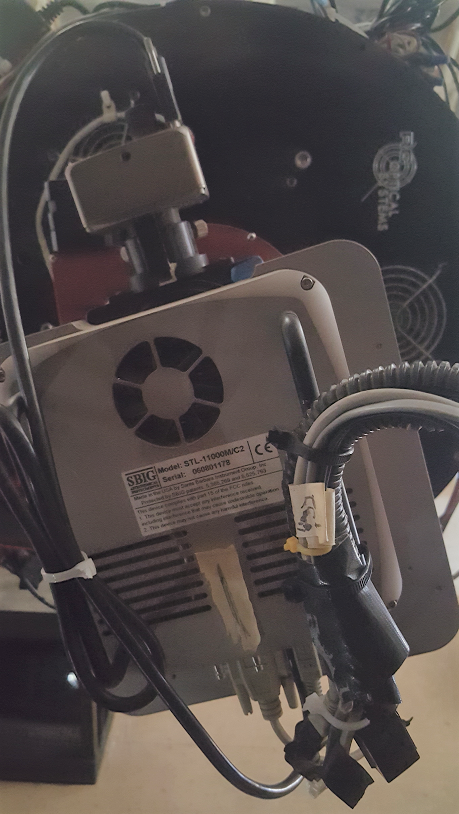 2018-06-11 TheSkyX Pro update and Pointing tests
A new "daily build" of TheSkyX Pro was installed.  The telescope is pointing fairly well, and will need some refinement over several more nights.  A slight adjustment to the polar alignment to ensure stars don't trail will be needed once we have an improved pointing model.
A test shot of the Veil Nebula in Cygnus shows the star slightly off centre, and a trace of faint nebulosity. We need to improve pointing further.
2018-06-06  Power under control
We now have software control of the AC power outlets, and can reboot any piece of equipment without manual intervention.  This will come in handy for sequencing a proper startup and shutdown once we've finished setting up the ACP automation software.
2018-05-30 Software Bug Squashed
A particularly odd software problem was traced to an operating system update. Uninstalling the update and applying the component pieces manually solved the issue.  This wasted nearly a full week tracking down the root cause.
2018-05-29 SBIG CCD Camera ordered
We got started with a borrowed SBIG STL-11000 full-frame CCD camera (thank you Stef C. !). This has helped us with testing and alignment.
As funds are starting to come in, we worked with SBIG Imaging Systems to find the right match of camera for the telescope we have.  Thanks for your support!  Special thanks to Doug G. and Tim P. of Diffraction Limited / SBIG for their help.
This image below taken by Paul M. is an unprocessed (not prettied up) sample of what might be expected from the new camera.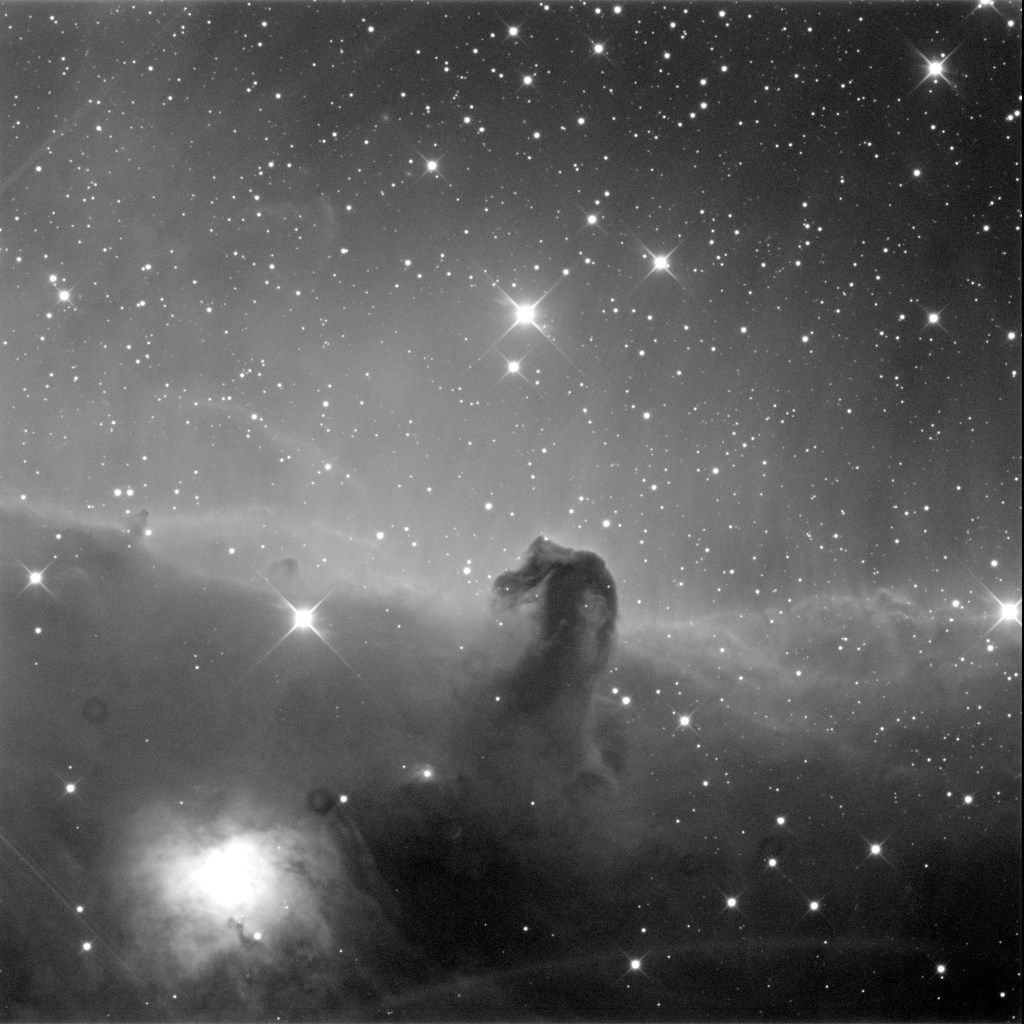 2018-05-20  Software configuration and problem solving
Initial setup went reasonably well, but a nagging problem showed up when trying to find objects and submit them for imaging.  This wasn't an issue with ACP, the cause is some underlying operating system issue. Troubleshooting is going slowly.
2018-05-18 Why is this computer so SLOWWWWW ?...
Turns out that the default settings for TheSky X are designed to give you a beautiful graphical experience. Well, we don't need that.  Our little Intel NUC i5 computer was spending its time trying to render (redraw) the visible sky graphics 30 times per second, for about a zillion stars.  It looks great on a high-end PC or Mac, but definitely too much horsepower was being used for something we didn't need. A quick fix was turning off hardware acceleration and lowering the frame rate.  Now it zips along nicely.
2018-05-16 DSLR Camera won't power up
Turns out the DC adapter we were using with the Digital SLR camera isn't completely compatible. RASC volunteer Colin Haig made this camera available to support wide-field observing. The camera is an astro-modified Canon 6D that is sensitive to hydrogen-alpha light, bringing out the red colour of nebula.  This will take some time to sort out.
2018-05-11 Sponsors, Donors, Board support
For several weeks, Colin H. was reaching out to a number of potential suppliers of astronomical equipment and software and was able to obtain commitments from two key partners, and consideration from a few others.  Donated software and equipment will save the RASC several thousand dollars.  The RASC Board continues to be very supportive. Fundraising efforts are about to shift into higher gear.
2018-05-09 IAU Observatory Code
We need to get an observatory code from the International Astronomical Union.  Better put this on the to-do list!
2018-05-02 Teams - Tech, Science, Photo, Outreach
We've concluded that we need a technical team of experts, as well as a science team to help plan the observations, a team for astrophotos, and people to help create educational and outreach actvities.
2018-04-23 Management Group
Executive Director Randy Attwood, Colin H., and Paul M. started a management group to get the project rolling. 
2018-04-13 Getting good advice
Past president and astronomer David Lane shared some phenomenal advice on how to avoid problems, likely issues we will face, and offered his support and guidance. Colin H picked his brain for the better part of a couple hours, and Dave was his usual generous self, and pointed out many pitfalls and shared his experiences running the Abbey Ridge Observatory and the Burke-Gaffney Observatory at St. Mary's University.  There were some valuable lessons learned.
2018-04-11 Informal kick-off
RASC president Colin Haig and astronomer & computer scientist Paul Mortfield met to work through the practical aspects of getting this project done. We have a lot of work ahead of us.
See the Telescope Origins link for more info on how this got going.
Post date:
Tuesday, June 12, 2018 - 6:48pm
Last modified:
Sunday, September 2, 2018 - 5:44am