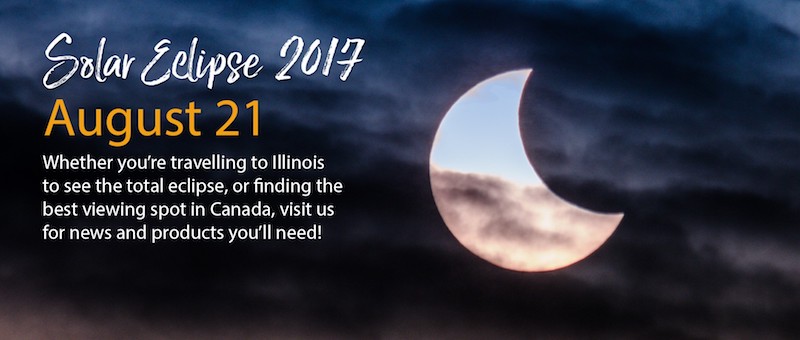 On Monday, August 21, the shadow of the Moon will pass over Canada. The event is a solar eclipse. Along a rather long but narrow path which stretches across the continental United States from Oregon to South Carolina, people will see a total solar eclipse.
Eclipse path image coutesy NASA/Fred Espenak
Across all of Canada, we will see the Moon cover up a portion of the Sun – a partial eclipse. WARNING- never look at the Sun without proper protection. Use properly made solar viewers such as the ones for sale on the RASC estore. These filters are safe to look through with your eyes only (not to be used with other optical devices such as binoculars or telescopes – just your eyes.
Members of the Royal Astronomical Society of Canada plan to set up telescopes on eclipse day to show the various phases of the partial eclipse through telescopes equipped with filters to allow safe viewing.
Be sure to check the centre's web site the day of the eclipse to see if it is a GO or NO GO.
Please note: in case of cloudy weather, the eclipse cannot be seen.
City
Observing Site
Mid-Eclipse
Max
Belleville
 
 
 
Calgary
 
11:33
77%
Edmonton

10:30am - 1pm

RASC Observatory, TELUS World of Science

11:35
68%
Halifax
 
15:53
48%
Hamilton
 
14:32
72%
Kingston
 
14:36
65%
K-W
 
14:30
73%
London
See http://physics.uwo.ca/outreach/cronyn/index.html
14:30
75%
Mississauga
 
14:31
71%
CF de Montreal
 
14:38
58%
Montreal

In partnership with John Abbott College Campus (Oval), Ste-Anne-de-Bellevue

14:38
58%
New Brunswick
(Saint John)
15:49
50%
Niagara
 
14:33
72%
Okanagan
 
10:25
83%
Ottawa

 Observing will take place at the Canada Aviation and Space Museum

14:35
61%
Prince George
 
10:25
70%
Quebec
 
14:40
52%
Regina
 
11:46
75%
Sarnia
 
14:28
76%
Saskatoon
10:15 am - 1:00 pm 2323 8th St E. Saskatoon, SK. S7J2P7
11:43
70%
Sunshine Coast
 
 
 
St. John's
 
16:29
31%
Thunder Bay
 
14:10
68%
Toronto

Who can attend: everyone including non-members
Fee: free, parking fee may apply
Reservation not needed 
Location: Ontario Science Centre (In front of the Science Centre on the TELUSCAPE)

http://rascto.ca/content/solar-eclipse-all-day-solar-observing

Mark your calendars! On August 21, 2017, the moon will pass in front of the Sun, giving us the rare opportunity to witness a partial solar eclipse.

Join U of T astronomers as we view this spectacle from the fair grounds of the Canadian National Exhibition during the Ex. We'll have eclipse viewing glasses and telescopes for safe eclipse viewing, games and more! Plus, there will be plenty of

U of T astronomers to answer all your questions.

Stay tuned, we'll provide more details closer to the event!

10:00 am to 4:00 pm CNE Fair Grounds near the Princess Margaret Fountain

This event is sponsored and organized by the Dunlap Institute in partnership with the Canadian National Exhibition

14:32
70%
Vancouver
Vancouver Centre will be celebrating the August Eclipse at Science World, 1455 Quebec Street, Vancouver from 9 am to 12 noon.  We will be jointly hosting the event with Science World staff.  Science World will have live screens showing the Eclipse in real time while RASC Vancouver will have solar telescopes and eclipse shades to view the partial Eclipse.  There is a fee for parking.  Science World is easily accessible via transit and is adjacent to the Main Street Skytrain Station.
10:21
86%
Victoria
 
10:20
89%
Winnipeg
 
12:57
71%
Windsor
 
14:27
80%
Yukon

Time: 09:00 PDT to 11:30 PDT

Location: Shipyards Park, Whitehorse, Yukon Territory

10:22
50%
Eclipse times, percentages source: The Observer's Handbook 2017 – The Royal Astronomical Society of Canada.
Post date:
Wednesday, April 5, 2017 - 11:07am
Last modified:
Thursday, July 20, 2017 - 9:59am