My Investigations of Impact Structures in North America...
My Investigations of Impact Structures in North America (and maybe other areas)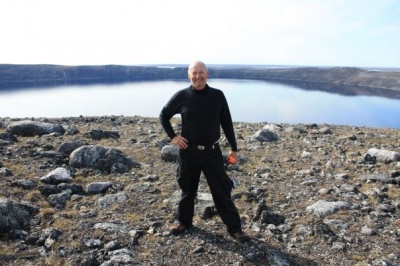 "How bright and beautiful a comet is as it flies past our planet—provided it does fly past it" –Isaac Asimov
The scientific study of impact structures began only about 50 years ago. I'm dating myself, but that was about the time my interest in impact craters started. Like any kid, I spent hours looking at the craters on the Moon through my old telescope. Would I ever get a chance to explore a crater? Well since retirement, I have combined my hobbies of astronomy, geology and flying to explore the impact structures in North America from the air and ground. You may think that the natural geological forces on our planet would have destroyed any features of impact craters. But I've found that, in some instances, these forces have "cross sectioned" the craters to ease our study. The image at left is me fulfilling a lifelong dream - standing on the rim of the Pingualuit crater! In the image at right I flew my airplane (a C177B - GOZooM) to Puerto Rico to explore a crater only to find that someone had built a radio telescope in it!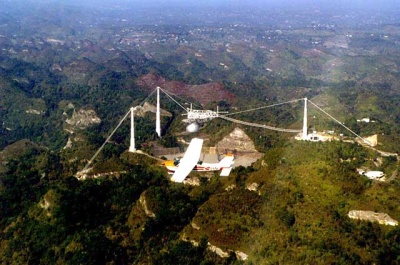 My science background plus the experience that I have gleaned from my past profession of semiconductor failure analysis has given me the incentive to document my analysis of these craters. I encourage anyone to please contact me if they note any errors that I may have made in my documentation or if they have something to add. (A few of my expeditions actually resulted from suggestions made from readers of this site).
Many of the exploration trips that I have made in my airplane and on foot can be viewed here.
If you ever find yourself in Ottawa, please come to one of the monthly meetings of the Ottawa Centre, Royal Astronomical Society of Canada.
The craters that I have explored are grouped by crater type and size:



Dr. Michael R. Dence and yours truly at a Sigma Xi Companions in Research meeting, Ottawa.

Dr. Dence was prime on impact crater research within the Canadian Shield, 1961-81. He was one of the few individuals responsible for transforming terrestrial impact crater research into a respectable and scientific discipline of planetary science.

   



The "Changing Earth" section of the Dynamic Earth Museum at Science North Sudbury is presenting my images of the Manicouagan, Pingualuit (Chubb) and Barringer meteorite craters that I have documented on my expeditions.

This is me with a smug look on my face beside the poster.
Relative Size Of Canadian Meteorite Craters
Submitted by:
Submitted 4 years 1 month ago by
boschat
.
Post date:
Wednesday, March 14, 2012 - 2:23pm