Astronomy Outreach, Twitter and the RASC
How do you share your love of the night sky and astronomy adventures?  Thanks to the RASC, I have found myself with a Twitter addiction!  Unfortunately, I have many people in the club enabling  my minor infatuation, and a constant stream of  data to feed my habit.
My dependence is fed by a large community of like minded folks online, and by sometimes traveling large distances to get my fix, spending a lot of money in the meantime.  I cannot help it – the lure is too great.
I blame NASA.
In 2008, with a small group of Toronto Centre members (Phil Chow, Scott Masterton, Eric Briggs and Shawn Lee), I traveled to Florida to witness my first shuttle launch.  STS-122.  Initially  (in the interests of Can-con) the intention was to try to see STS-123 launch, with DEXTRE [1]  on board.   However, we were able to get tickets to 122, and off we went – and were able to see DEXTRE up close anyway, being packed up at the Kennedy Space Centre.  Its little robot body and appendages curled up for the ride to space.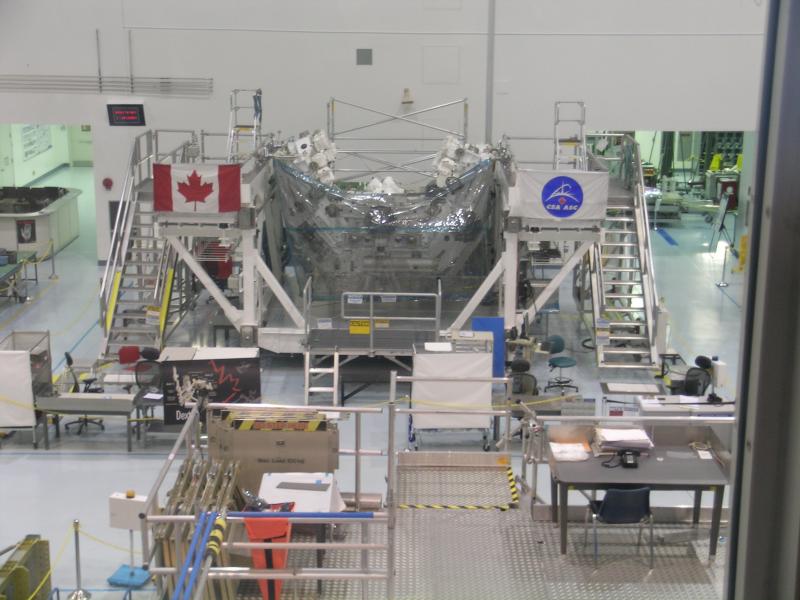 (Dextre, at the Kennedy Space Centre)
There were so many wonderful moments during that trip, from getting out of Toronto in February, to seeing the upward plume of smoke that 7 humans rode upward into space.
I wanted to share those feelings, and in a way take the club along with us for the ride – Tweeting the experience seemed a good way to do it.  I was hooked!
In 2009, Julie Payette launched into space.  Alas because of the scrubs, I never saw it.  Even after flying down to Florida.  Twice. (First attempt with David Parfett, Terry Leeder and Angela Barbetta, second attempt with David Parfett, Ron McNaughton and his brother)  But a few of us did have a wonderful time, and got up close and personal to the pad.  All the while, I was tweeting the experiences every step of the way.  I think my blackberry was behind my back in this picture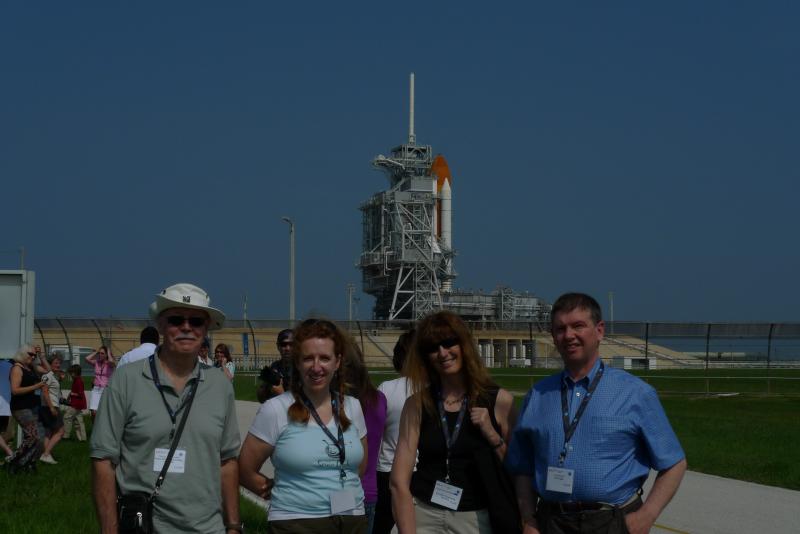 (Terry Leeder, Katrina Ince-Lum, Angela Barbetta and David Parfett at pad 39A at the Kennedy Space Centre)
In 2010 I decided to give myself another kick at the can – one more try to see a shuttle launch live.  This time I was going to try to see a night launch, STS-130 (with Phil Chow, Leslie Harvey and David Parfett). [2] Happily there was a happy ending to that trip [3] but again I felt I had the RASC and my Twitter followers along with me, as I was sharing the experience. 
For this past year, one particular highlight was seeing the final ever shuttle launch on July 8.  But if you were to guess from Florida, you'd be wrong.  I was a guest of the Canadian Space Agency, and was watching the final ever launch from Saint-Hubert Quebec.   At a get together with Twitter followers in the real world – a tweetup!  Meeting people I'd only ever spoken to online. I was lucky to have Patrice Scattolin as my guest, and to be in a wonderful location for the final launch.  If I could not be in Florida, then Montreal would be the second best place to be for me.  We met David St. Jaques [4] and Jeremy Hansen [5], Canada's newest astronauts.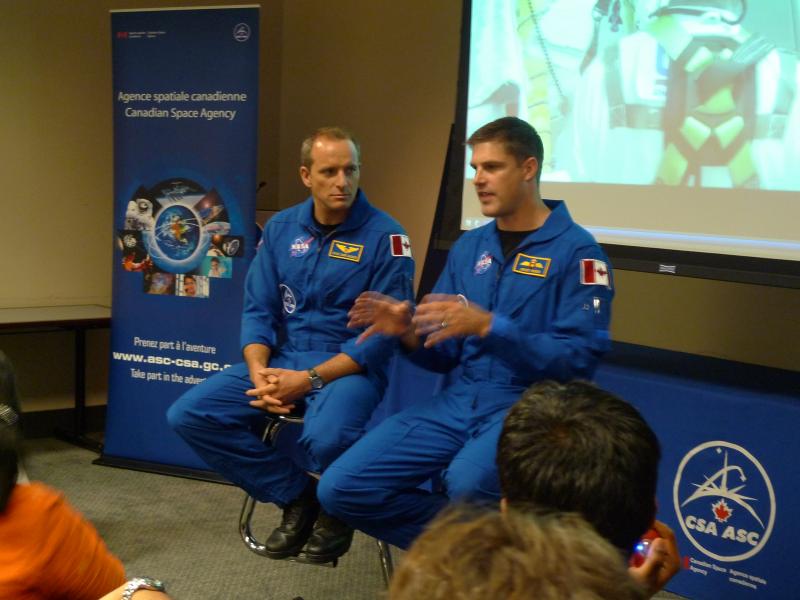 (At the Canadian Space Agency, David St. Jacques and Jeremy Hansen)
What a thrill to be part of that with the whole Canadian Space Agency family.  Through the terminal countdown we sat, the suspense building.  The weather looked marginal – would Cathy Winters call it "green"?  At  T-31 seconds the launch countdown stopped due to a glitch and we thought it would scrub.  However it was determined  that the gaseous Oxygen Vent Arm had properly retracted after all and the flight went ahead – what a way to end shuttle launches – with a problem that had never happened before, and that will never happen again. [6]
I also tweet about astronomical events and observing closer to home, (which are often time sensitive)  be it from my backyard, Toronto Centre solar observing sessions, the Toronto Centre's observatory in Collingwood, and the David Dunlap Observatory, which is operated by Toronto Centre volunteers [7]
Most of my Twitter followers are not RASC members – it is a great way to share astronomical information and inform all of the great work that RASC volunteers do, and can be a great tool to recruit new members.  Mostly I just tweet because it is fun.
The RASC has a couple of noteworthy Twitter feeds.
https://twitter.com/#!/RASC_LPA
Even though astronomy can be a solitary hobby, sharing adventures can be fun.  I advise members to search out opportunities near them.  I have made some wonderful friends through the RASC.
The immediacy and community of Twitter is something that is well suited to public outreach.  I look forward to continuing to share my astro-adventures.  Stay tuned!
Katrina Ince-Lum, Toronto Centre
https://twitter.com/Astro_yyz
---
Submitted by:
Submitted 4 years 3 months ago by
User479
.
Post date:
Friday, January 6, 2012 - 10:53pm