Post Date:
Wed, 2007-05-02
Thanks to RASC volunteers, Astronomy Week and International Astronomy Day 2007 put stars in the eyes of astronomers and others across the country. While the eastern half of the country enjoyed clear skies, clouds over the prairies and the west coast did not dampen enthusiasm for indoor exhibits and presentations.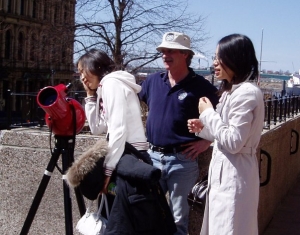 Curt Nason of New Brunswick Centre brings Venus to passersby. Astronomy Day 2007, Saint John, NB.
New Brunswick Centre's celebrations spanned the province. Thursday through Saturday nights in Saint John were marked by chilly but clear observing at Saint's Rest Beach, thanks to both the NB Centre and the Saint John Astronomy Club. Saturday's display at the Brunswick Square Mall drew crowds with members' poster presentations and telescopes, and members of the public were able to observe the Sun, the Moon, and even Venus in broad daylight from the sidewalk outside. In the beautiful setting of Moncton's Bore Park on the Petitcodiac River, passersby kept coming back for "one more look, I promise!" glimpses of Saturn, and hoped there might be another public observing night for Jupiter in the summer. In the middle of a crowded Fredericton farmers' market, over a thousand visitors engaged in daytime observing, bought raffle tickets to win a telescope, and explored a scale model of the solar system.
Elsewhere in the East, Charlottetown Centre had a bright and pleasant Saturday at the mall, where many passersby were out enjoying the weather and stopped to look at telescopes.
Belleville Centre's mall display featured a display of meteorites and members' photography. The Attendees of the Saturday night observing session at Zwicks Park enjoyed perfect skies and a visit from Terence Dickinson. In Toronto, A week of solar observing sessions at the Ontario Science Centre's new Teluscape park was followed by a Friday night star party featuring over two dozen members of Toronto Centre with their telescopes and presentations. On Saturday night, the University of Toronto's David Dunlap Observatory saw two full tour groups treated to a look at Saturn through the 74" reflector, followed by more leisurely amateur observing on the lawn. Meanwhile, over a hundred visitors to Mississauga's Central Library enjoyed watching the skies -- and listening to them by ham radio. The RASC's southernmost outpost, Windsor, had a crowded open-house at the Hallam Observatory on Saturday night.
Edmonton Centre was cursed with cloudy skies, but Saturday's displays at the Telus World of Science introduced the public to astronomy and Canada's space program. Also on hand were members of the Edmonton Rocketry Club. Astronomy Day segued into Earth Day with light pollution education and telescopes on display at Hawrelak Park.
While the weather didn't cooperate in Victoria, astronomy was on display indoors at the Royal British Columbia Museum. Crowds flocked to hear live music, see telescopes up close, ask questions at the Ask An Astronomer booth, and attend a presentation on the Phoenix mission to Mars by Dr. Victoria Hipkin of the Canadian Space Agency. In Vancouver, the clouds held off long enough for a few hours of solar observing on Saturday. Indoors at the H.R. MacMillan Space Centre, visitors saw Mars rocks on display, and attended presentations on all things astronomical. Dr. David McKay of NASA's Johnson Spaceflight Center was the keynote lecturer, and spoke on the topic of evidence for microbial life on Mars. The day was topped off by a remote observing and imaging demonstration using the Chris Graham Robotic Scope (conveniently located under crisp dark skies in New Mexico).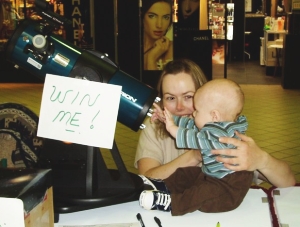 Beth and Westin McNutt demonstrating the raffle telescope. Astronomy Day 2007, Saint John, NB.
Thanks are due to all the volunteers who turned out to make Astronomy Week happen, whether under clear or cloudy skies!