One of the best things about the RASC is that we are a national community, but our strength is based on our local presence in our 27 Centres. To participate in this national scene is one of the main reasons I enjoy being National President so much. I've now attended 51 Centre meetings since my term began, and the last two weeks were a hectic highlight for me. I visited these Centres...
Edmonton Centre, on January 9;
Okanagan Centre, on January 10;
Calgary Centre, on January 11;
Thunder Bay Centre, on January 12;
Winnipeg Centre, on January 13;
Windsor Centre, on January 17;
Toronto Centre, on January 18;
Niagara Centre, on January 19; and
London Centre, on January 20.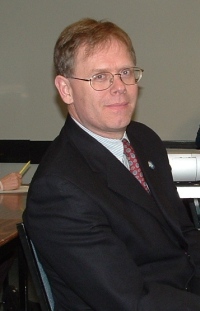 Good thing I didn't have to drive far for that last one, since I was getting a little ragged around the edges. Although it's pretty easy for me to visit the southern Ontario Centres, criss-crossing the west required a lot of effort by many of the leaders in the five western Centres that invited me. They all made me feel like a rock star -- except I had to carry my own bag. (Oh, and next time, I want a limousine!) Thanks for a great time, everyone.
So now I'm going to make a claim that is completely unsubstantiated, but I challenge anyone to prove me wrong: I'm the only RASC member ever to attend nine different Centre meetings in 12 days in the history of the RASC. Wow. It was great fun and worth every centimetre of cramped airline legroom, every hectosecond of sleep in strange but welcoming bedrooms, and every kilometre of driving up and down the 400-series highways. I just wish I could do this every month!
Clear skies,
Peter Jedicke,
National President
Photo credit: Peter Jedicke at the Thunder Bay Centre by Eddie Kucbel
Post date:
Tuesday, January 17, 2012 - 2:27pm