International Observe the Moon Night (InOMN) — 2013 October 12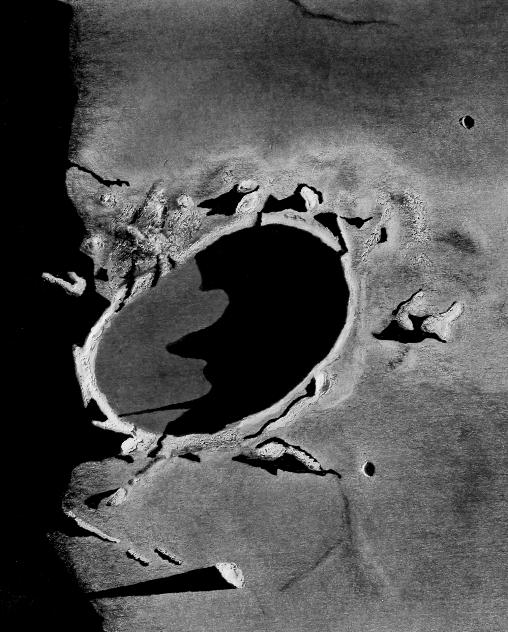 Gerry Smerchanski ©
I only had time for one sketch and even that was rushed with many details being left out.  I did take time to watch the occultation of Beta Capricornus (Dabih)  It was quite some time between the disappearance of the first companion and the second as they are separated by some distance.  After they disappeared I went to sketching and didn't notice that they had popped out the other side while I was still sketching.
Here's my sketch of the crater Plato that captivated me with that one long thin shadow that stretched right across the smooth floor of the crater.  Below Plato, the long shadow of the solitary bright mountain Mons Pico stretched to the terminator.  Quite a compelling view.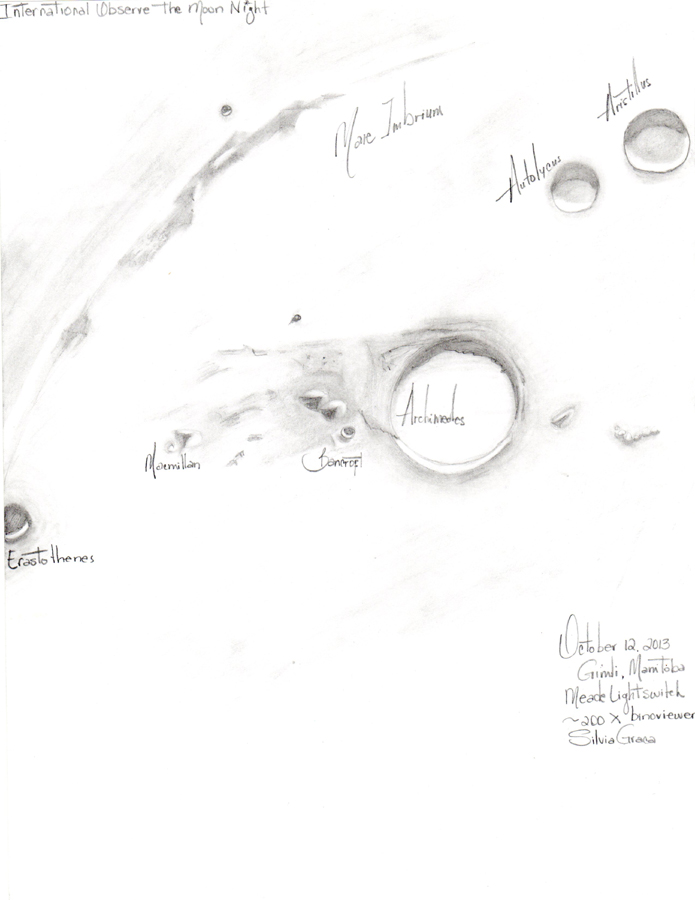 Silvia Graca ©     I had a wonderful time under the moonlight!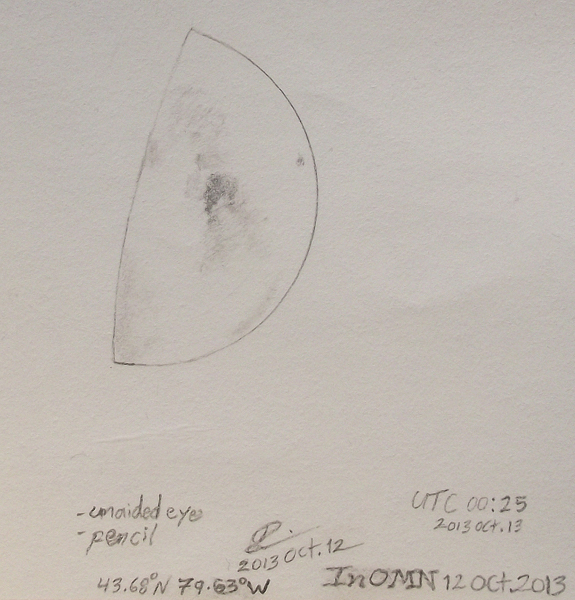 R.A. Rosenfeld ©
A naked-eye image executed from an overly-lit downtown Toronto parking lot.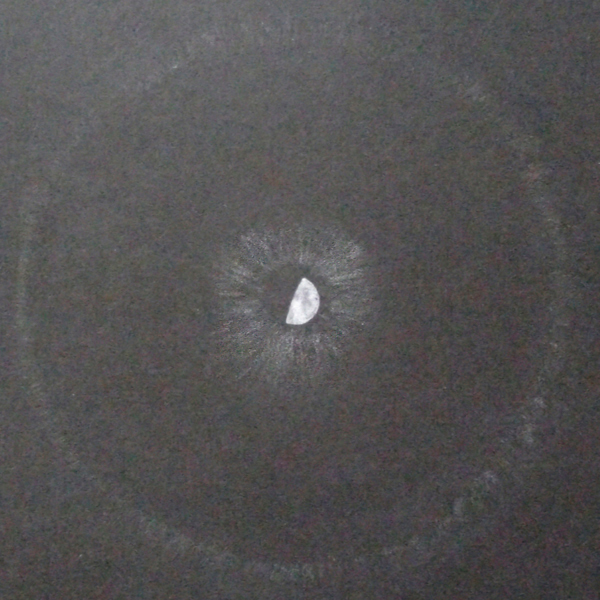 R.A. Rosenfeld ©
A naked-eye image executed from an overly-lit downtown Toronto parking lot. The lunar halo was very faint.
Louise Racine ©

Both sketchs were done with white chalk on black paperboard.

The first one represents a big crater with other craters inside it. I saw it through a 12'' Dobsonian at Mont Cosmos Observatory in St-Elzéar, Qc. But since I was not alone with the scope, I did not put in as much detail as I would have liked... moreover, the temperature was not very warm as I remember ;)

The second one (right) was sketched with the naked eye.
Under the editorship of David M.F. Chapman, the RASC Observers' Handbook has featured observational drawings by RASC members on either the front or back covers. The front cover of the 2012 Handbook displays an excellent depiction of Mars at opposition by Michael Gatto, and the back cover of the 2013 Handbook shows a drawing of the central part of the Great Nebula in Orion (M42) by Kathleen Houston, author of the Handbook's chapter on sketching. R.A. Rosenfeld's sketch of the Sun in Hα appears on the front of the 2014 Handbook, and Gerry Smerchanski's portrait of the crater Gassendi fills the back cover of the 2015 edition.
| | |
| --- | --- |
| | |
| 2012 Handbook | 2013 Handbook |
| | |
| 2014 Handbook | 2015 Handbook |
This gallery is curated by R.A. Rosenfeld for the Astroketchers' list.
Post date:
Saturday, October 19, 2013 - 12:04pm
Last modified:
Wednesday, July 8, 2015 - 9:10pm