Background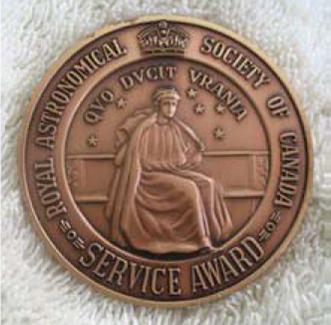 As a volunteer-driven organization the RASC relies heavily upon the talents and contributions of its members to deliver programs and services. The Service Award was instituted in 1959 to recognize the contributions of members who, at either the National or Centre levels, have made a significant contribution to the life and vitality of the Society. The award is a bronze medallion engraved with the winner's name and year of presentation. (See "Establishment of the Service Award of the Royal Astronomical Society of Canada," JRASC 56, 131.)
The Service Award is a major award of the Society given to a member in recognition of outstanding service, rendered over an extended period of time, where such service has had a major impact on the work of the Society and/or of a Centre of the Society. The Award is given only by resolution of the National Council, on recommendation of the Awards Committee. The Award shall be presented at the Society's General Assembly. The recipient will be offered reimbursement for two nights accommodation and up to two banquet tickets if they travel to the GA to receive their award.
Eligibility
To be eligible for the Award, a recipient must
Be a member in good standing (a Service Award may be made posthumously to a member who would otherwise have been eligible).
Have been a member in good standing for at least ten (10) consecutive years prior to the date of nomination for the medal.
Have rendered substantial service of a well-defined nature to the Society and/or a Centre over a period of at least ten years, or more. Such service should have had a major, constructive impact and would involve a very substantial and continued commitment on the part of the nominee.
Not have received a Service Award before.
Note: A special Service Award was given to Col R.S. McLaughlin in 1965 in recognition of his munificence in funding and endowing the McLaughlin Planetarium in Toronto.
Recipients
---
Links to relevant JRASC pages are provided where available. Citations (PDF) are provided for those not published in JRASC.
*Deceased