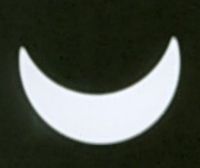 Photo by Joseph Sketchley.
The Total Solar Eclipse of 1963 July 20
A number of RASC members took part in an expedition by train to Wivenhoe, Manitoba to view this eclipse; many others observed from Québec.
Eclipse Track: Global Map | Google Map
(Eclipse Predictions by Fred Espenak, NASA/GSFC)
Pre-eclipse:
Reports:

Operation Eclipse--1963, JRASC, Vol. 57, pp. 241-52 - J.L. Locke, J.E. Kennedy, et al.
Radio Observations, JRASC, Vol. 60, pp. 215-20 - A.E. Covington, W.A.G. Kennedy, H.P.A. Gagnon.
See also: Text versions: Other Bulletins in the RASC Comet/Nova archive.
Documents for the 1963 July 20 Eclipse
---
Eclipse Images, 1963 July 20
---
An expedition by rail to Wivenhoe, Manitoba.
Post date:
Monday, April 8, 2013 - 7:52pm
Last modified:
Monday, September 2, 2013 - 9:06pm