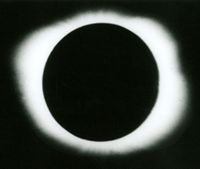 Photo by G. Harper Hall in JRASC.
The Total Solar Eclipse of 1932 August 31
A number of RASC members observed this eclipse from Québec.
"A total eclipse of the sun occurred on Aug. 31 in New England and Canada while clouds prevented observation by many astronomical parties inland and clear weather prevailed closer to the coast." (JRASC, Vol. 27, pg. 44)

Eclipse Track: Global Map | Google Map
(Eclipse Predictions by Fred Espenak, NASA/GSFC)
Eclipse Images, 1932 August 31
---
There are 58 images in this gallery.